Legole.Com Discover china. Explore the beauty and wonder of the land, people, and culture of

China

.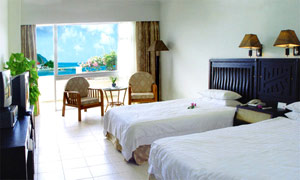 Yuya Avenue, Sanya, China, 572000

Location: located in the Sanya Dadonghai area. It is 4kms to the airport
Surrounding: Dadonghai area
Accepted credit cards: Master, Visa, AMEX, Diners Club, JCB

Price And Booking

Room Type Period Average(CNY/ USD)
Deluxe Room May 7, 2005 - Sep 29, 2005 278/ 34
Oct 8, 2005 - Dec 27, 2005 298/ 37
Deluxe Suite May 7, 2005 - Sep 29, 2005 620/ 77
Oct 8, 2005 - Dec 27, 2005 650/ 80
Standard Room May 7, 2005 - Sep 29, 2005 258/ 32
Oct 8, 2005 - Dec 27, 2005 278/ 34

Payment

Pay at hotel reception
(This hotel requires you pay the full room charge directly at hotel reception by guarantee first.)

The room price is quoted in both CNY and USD. After you submit your booking form, our memo table will show you the total room price in CNY,not USD, and which is the figure you need pay at the hotel reception.
The room price has included 15% service charge, but excludes any sort of tax.
One room price excludes or includes one or two daily breakfasts served in the hotel.
The hotel keeps the reservation till 18:00 if no any advance note.
Hotel's stipulated check-in time at 14:00 and check-out time at 12:00. Early check-in and late check-out are subject to room availability. The hotel might request half day or full day room price for late check out.

Profile

The hotel is simply yet tastefully decorated and the rooms
here offer great views of the sea.The hotel has a good
business center,and there are multifunctional halls and
conference rooms here which are well equipped, providing
good services and amenities for business travelers. Besides
this, there is a nice outdoor swimming pool, bodybuilding
facilities and a beauty and massage center.

Services

Meeting Facilities
Business Center
Parking
Currency Exchange
Ticketing Office
Domestic Long-distance Access
International Long-distance Access
Laundry Service
First Aid
Beauty Salon
Broadband Access in some room

Facilities

Ballroom
Karaoke
Pool Room
ping Pong Room
Swimming Pool
Fitness Facility
Massage
Sauna

Faetures

The western restaurant in the hotel offers delicious
western food in a romantic and comfortable atmosphere.
The Taoyuan Chinese Restaurant is simple and elegant
and serves great local cuisine.