Legole.Com Discover china. Explore the beauty and wonder of the land, people, and culture of

China

.

Sanya Marriott Resort & Spa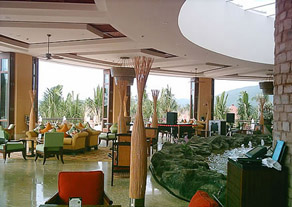 Yalong Bay Natl Resort District, Sanya, China, 572000

Location: located along the shores of the South China Sea on an exquisite stretch of white sand beach.
Surrounding: Yalong Bay
Accepted credit cards: Master, Visa, AMEX, Diners Club, JCB

Price And Booking

Room Type Period Average(CNY/ USD)
Deluxe Garden-view Room Jul 16, 2005 - Sep 30, 2005 958/ 118
Deluxe Mountain-view Room Jul 16, 2005 - Sep 30, 2005 958/ 118
Deluxe Sea-view Room Jul 16, 2005 - Sep 30, 2005 1408/ 174
Deluxe Sea-view Suite Jul 16, 2005 - Sep 30, 2005 2508/ 310
Superior Deluxe Sea-view Room Jul 16, 2005 - Sep 30, 2005 1608/ 199

Payment

Pay at hotel reception
(This hotel requires you pay the full room charge directly at hotel reception by guarantee first.)

The room price is quoted in both CNY and USD. After you submit your booking form, our memo table will show you the total room price in CNY,not USD, and which is the figure you need pay at the hotel reception.
The room price has included 15% service charge, but excludes any sort of tax.
One room price excludes or includes one or two daily breakfasts served in the hotel.
The hotel keeps the reservation till 18:00 if no any advance note.
Hotel's stipulated check-in time at 14:00 and check-out time at 12:00. Early check-in and late check-out are subject to room availability. The hotel might request half day or full day room price for late check out.

Profile

Superb meeting facilities are available for all types of events
and conferences. Including an 830 sq. metre Grand Ballroom,
five function rooms of 70 sq. metre area each. Recreation facilities
include: Marriott Spa with outdoor pavilions facing the sea, Health
and Fitness Centre, swimming pool, tennis courts, beach, water
sports, golf course adjacent to the resort.
Your Marriott envelops you in an incomparable tradition of warm
and caring service. That "spirit to serve" was our founding principle
on the day we began. It is still our guiding principle today. Our
sincerest desire is to anticipate your needs and help you make
the most of your opportunities while traveling. We care to make
the difference.Each well-appointed Marriott room is equipped
with a work space that is just as smart as it can be. The lightweight
desk is built on casters to move where you want to work.
The ergonomic chair fits you, not the other way around. Electrical
outlets are located at the base of the lamps, so you'll never again
climb under the desk in search of power. And, you can easily read
your monitor thanks to the bright, even light of the no-glare lamp.
Downstairs, our business centers let you fax, print, make copies,
or express ship that crucial package. Always look your best with
in-room personal-care products, hair dryers, irons, and ironing
boards. And, whether coming or going, get moving faster with
Express Check-in and Video Checkout.
Spread out in our spacious guest rooms complete with our
signature "Marriott Bed." Each has quilted-top mattresses, upgraded
down blankets, oversized comforters, and feather pillows. Relax
with remote-controlled television, in-room pay movies, free HBO,
ESPN, and CNN. Visit the gift shop. Slip into the pool or take
advantage of the whirlpool or fitness center.

Services

Chinese Cuisine
Western Cuisine
Cafe
In-door Swimming Pool
Tennis
Golf
Fitness Facility
Massage
Sauna

Facilities

Meeting Facilities
Business Center
Domestic Long-distance Access
Laundry Service
Broadband Access in all rooms

Features

For dining and entertainment, the resort offers 3 restaurants
and a poolside grill. Its casual restaurant features a grand
buffet as well as a la carte service; its Chinese restaurant
features regional cuisine from mainland China; and its
specialty restaurant offers South Asian cuisine.