Legole.Com Discover china. Explore the beauty and wonder of the land, people, and culture of

China

.

Yalong Bay Mangrove Tree Resort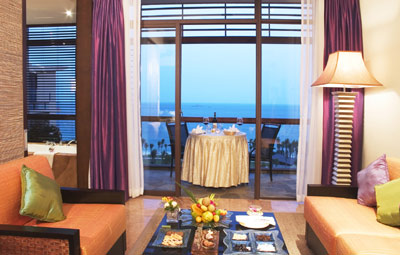 Yalong Bay National Resort District, Sanya, China, 572000

Location: located in Yalong Bay.30 minutes drive from the Sanya Phoenix International Airport; 18 minutes from the city center; 150 minutes from Boao city.
Surrounding: Yalong Bay
Accepted credit cards: Master, Visa, AMEX, Diners Club, JCB

Price And Boking

Room Type Period Average(CNY/ USD)
Deluxe Sea-view Room May 1, 2005 - Sep 29, 2005 1218/ 150
Garden-view Room May 19, 2005 - Sep 29, 2005 1018/ 126
Lake-view Room May 1, 2005 - Sep 29, 2005 1018/ 126
Luxury Deluxe Sea-view Room May 1, 2005 - Sep 29, 2005 1518/ 187
Sea-view Room May 1, 2005 - Sep 29, 2005 1118/ 138

Payment

Pay at hotel reception
(This hotel requires you pay the full room charge directly at hotel reception by guarantee first.)

The room price is quoted in both CNY and USD. After you submit your booking form, our memo table will show you the total room price in CNY,not USD, and which is the figure you need pay at the hotel reception.
The room price has included 15% service charge, but excludes any sort of tax.
One room price excludes or includes one or two daily breakfasts served in the hotel.
The hotel keeps the reservation till 18:00 if no any advance note.
Hotel's stipulated check-in time at 14:00 and check-out time at 12:00. Early check-in and late check-out are subject to room availability. The hotel might request half day or full day room price for late check out.

Profile

The spacious, elegant and distinctive design of our Resort's guest's
accommodation are State-of-the-Art of the highest internationals. All
rooms and suites incorporate rich beach resort fabric, teakwood,
furnishings, impeccable detailing and luxurious bathroom. Balcony of
the room has panoramic sea view inspiring the beauty of tropical
forest. The Lobby Lounge is the ideal place to have indulgence in the
breeze and music. Snacks, tropical drinks are served. The Cigar House
offers different brand of cigars, alcoholic and tropical drinks
Facilities include the fine white and sandy beach, swimming pool, diving
pool and games room. The Health Club offers a fully-equipped gymnasium;
Jacuzzi, sauna, steam bath, whirl pool, foot massage, body massage and
various sport activities.

Services

Chinese Cuisine
Western Cuisine
Thailand restaurant
Business center
Ticketing
Gym
Massage
Sauna
Entertainment center
Conference rooms
Multifunctional hall
Shopping center

Facilities

Major credit cards are accepted
Multi-lingual hotel staff
24 hours room service
Valet and laundry service
Hotel limousine service
Airport pickup service
Sightseeing coach rental
Parcel and postal service
Baby sitting service
Baby cots on request
Daily local newspaper in room
Scuba diving arrangement
Tour arrangement service
Concierge service
Computer rental
Doctor clinic and on call 24 hours
Golf arrangement service
Audio and visual equipment rental
Wheel chairs

Features

Restaurants at the Mangrove Tree have both International and Chinese
Cuisines and offer relaxing atmosphere and beautiful dining venues.
The Thai Restaurant provides the finest Thai food. The Chinese Restaurant
offers typical and tasty "Cantonese" cuisine. The Café is the place to enjoy
international and Western Cuisine.