Legole.Com Discover china. Explore the beauty and wonder of the land, people, and culture of

China

.

GuestHouse International Hotel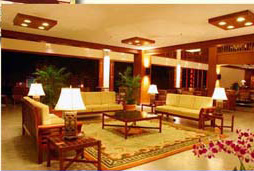 No. 33 Yu Ya Road, Dadonghai, Sanya, China, 572021

Location: located in the Great East Sea area of Sanya, close to downtown.
Surrounding: Dadonghai Beach
Accepted credit cards: Master, Visa, AMEX, Diners Club, JCB

Price And Booking

Room Type Period Average(CNY/ USD)
Business Suite May 1, 2005 - Sep 30, 2005 480/ 59
Deluxe Sea-view Room May 1, 2005 - Sep 30, 2005 270/ 33
Guesthouse Sea-view Room May 1, 2005 - Sep 30, 2005 290/ 36
Guesthouse Suite May 1, 2005 - Sep 30, 2005 550/ 68
Superior Mountain-view Room May 1, 2005 - Sep 30, 2005 250/ 31

Payment

Pay at hotel reception
(This hotel requires you pay the full room charge directly at hotel reception by guarantee first.)

The room price is quoted in both CNY and USD. After you submit your booking form, our memo table will show you the total room price in CNY,not USD, and which is the figure you need pay at the hotel reception.
The room price has included 15% service charge, but excludes any sort of tax.
One room price excludes or includes one or two daily breakfasts served in the hotel.
The hotel keeps the reservation till 18:00 if no any advance note.
Hotel's stipulated check-in time at 14:00 and check-out time at 12:00. Early check-in and late check-out are subject to room availability. The hotel might request half day or full day room price for late check out.

Profile

The Hotel has a total of 176 rooms, including 93 DOT (each with an
area of 39 square meters), 50 GOK (each with an area of 48 square
meters). All rooms are spacious, one of a kind and has a full set of
five-star standardized furniture and individualized supplies. All the
rooms have the advantage of sea-view or mountain-view, beautiful
scene and nice, freshly circulated air. Also, the rooms are equipped
with broadband Internet services, free for the customers. In addition,
the Hotel has 2 separate Swimming Pools in room service areas.
The Multi-purpose Banquet Hall, equipped with hi-tech audio and video
facilities, can accommodate a maximum of 200 people for conferences,
banquets and other activities. The restaurants are offering excellent
Chinese and Western cuisine in an elegant ambience.
Also, the Hotel is equipped with Fitness room, Sauna, Massage Center
and all sorts of entertainments.

Services

Chinese Cuisine
Western Cuisine
Free Safe Box
Money Exchange
Acceptance of major Domestic and International
Credit Card payments
Lobby Manager
Medical Service
Free Luggage Carrying and Storing Service
Airport Service (drop-off and pick-up)
Taxi and Car Rental service
Tour Service
Air Flight Ticket Reservation
Postal Service
Umbrella/ Wheeled-chair Borrowing
Bicycle Rental

Facilities

Air conditioning
IDD/DDD
TV
Business center
Conference room
Shopping arcade
Coffee shop
Sauna
Beauty salon
Night club
Swimming pool

Features

In an elegant and cozy ambience, we serve sufficient and convenient
breakfast buffet in Chinese and Western style, as well as Hainan
traditional cuisine and business meals.