Legole.Com Discover china. Explore the beauty and wonder of the land, people, and culture of

China

.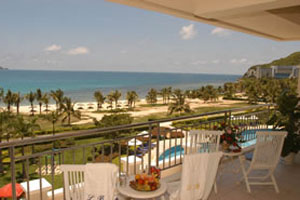 Dadonghai Tourism Zone, Sanya, China, 572000

Location: located in the charming Da Dong Hai Sea Resort, 5-minutes from downtown Sanya City and 25-minutes from the Phoenix International Airport.
Surrounding: Dadonghai Beach
Accepted credit cards: Master, Visa, AMEX, Diners Club, JCB

Price And Booking

Room Type Period Average(CNY/ USD)
Deluxe Sea-view Suite(A type) May 1, 2005 - Mar 31, 2006 1148/ 142
Deluxe Sea-view Suite(B type) May 1, 2005 - Mar 31, 2006 1448/ 179
Liking Double Room May 1, 2005 - Mar 31, 2006 338/ 42
Liking King-size Bed Room May 1, 2005 - Mar 31, 2006 338/ 42
Sea-view Double Room May 1, 2005 - Mar 31, 2006 458/ 57

Payment

Pay at hotel reception
(This hotel requires you pay the full room charge directly at hotel reception by guarantee first.)

The room price is quoted in both CNY and USD. After you submit your booking form, our memo table will show you the total room price in CNY,not USD, and which is the figure you need pay at the hotel reception.
The room price has included 15% service charge, but excludes any sort of tax.
One room price excludes or includes one or two daily breakfasts served in the hotel.
The hotel keeps the reservation till 18:00 if no any advance note.
Hotel's stipulated check-in time at 14:00 and check-out time at 12:00. Early check-in and late check-out are subject to room availability. The hotel might request half day or full day room price for late check out.

Profile

The Da Dong Hai Sea Resort is a famous tourist attraction with radiant
and enchanting sunshine all year around, clean and blue sea-water,
fine and soft sand, and green coconut trees dancing to the seaside
breeze.
The hotel also offers a complete range of beach and leisure activities
including a beach front swimming pool, mountain bikes, jet skis, diving
and fishing, beach football, and beach volleyball. The hotel facilities
also include a lounge bar, sauna center, and night club with 35 private
rooms.
The 200 guestrooms are decorated with comfort and style. The sea-view
and garden-view rooms are designed with a private balcony and equipped
with central air-conditioning, IDD, satellite TV and direct Internet access.

Services

Chinese Cuisine
Western Cuisine
Bar / Lounge
Karaoke Pool Room
In-door Swimming Pool
Fitness Facility
Massage Sauna

Facilities

Meeting Facilities
Business Center
Domestic Long-distance Access
International Long-distance Access
Laundry Service
Beauty Salon
Broadband Access in all room

Features

The hotel's Chinese restaurant features Cantonese food, as well as
a selection of Sichuan and Hubei specialties. The Western restaurant
offers a selection of Mediterranean dishes. The lobby bar is an ideal
place to unwind. There is also various meeting rooms and a function
hall which can hold up to 250 people.