Legole.Com Discover china. Explore the beauty and wonder of the land, people, and culture of

China

.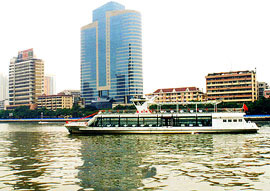 Location: located in the south part of China, at the mouth of the Pearl River

Neighboring Areas: Hunan, Jiangxi, Fujian, and Hainan provinces; Guangxi Zhuang Autonomous Region, Hong Kong and Macao

Population: 6.66 million
Urban Population: 3.95 million
Area: 7,434 sq km

Nationalities: Han, Li, Yao, Zhuang, Miao, Hui, Manchu and She

History: with a history of 2,200 years, regarded as the the earilest among the international trade port cities in the world; built as Chuting by the Chu people on the middle reaches of the Yangtse River in the 9th century B.C.; established as Nanhai Prefecture in the Qin dynasty and became Nanyue Kingdom in the Western Han dynasty; the starting point of the Silk Road on the sea which links China with the Arabian and western countries in trading; the China's only foreign trade port at sea before the Qing dynasty

Climatic Features: subtropical humid monsoon climate, hot and rainy

Average Temperature: 21.7C annually with the highest of 38.7C and lowest of 0C
Rainfall: annual precipitation 1982.7 mm, with rainfall concentrated in spring and autumn

Mountains: Western Hills, which belong to the Taihang Range; Mt. Jundushan, in the north, which is part of the Mt. Yanshan

Rivers: Pearl River (West River, North River, East River), Nanhai, Liuhua Lake, Li Lake, Dongshan Lake

Products: paddy rice, potato, wheat, corn, jowar, silk, sugarcane, earthnut and hemp
Tropical or Subtropical Fruits: banana, cirtrus, lichee, and pineapple

Local Highlights: Yue Drama
Famous Guangdong Folk Music: Bubugao and Xiyangyang
Handcraft: Ivory Carving, Sandalwood Fan.