Legole.Com Discover china. Explore the beauty and wonder of the land, people, and culture of

China

.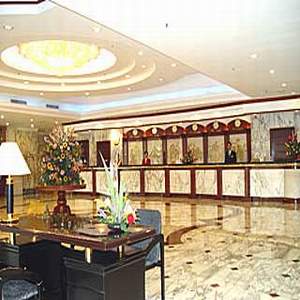 No.53 Shamian street North, Guangzhou, China, 510130

Location: Hotel is located 3 kms to city center, 39 kms to the airport and 6 kms to the Railway Station. It is within walking distance to the US Consulate.
Surrounding: Shang Xia Jiu Walk Road, Beijing Road, Haizhu Square, Shamian Island
Accepted credit cards: Master, Visa, AMEX, Diners Club, JCB

Price And Booking

Room Type Period Average(CNY/ USD)
Business Room(Main Building) May 1, 2005 - Oct 13, 2005 480/ 59
Business Suite(Main Building) May 1, 2005 - Oct 13, 2005 680/ 84
Deluxe Room May 1, 2005 - Oct 13, 2005 380/ 47
Standard Room May 1, 2005 - Oct 13, 2005 280/ 35
Superior Room(Main Building) May 1, 2005 - Oct 13, 2005 380/ 47

Payment

Pay at hotel reception
(This hotel requires you pay the full room charge directly at hotel reception by guarantee first.)

Profile

Located on the charming historical Shamian Island-an
oasis of tranquility from this busy city, Guangdong
Victory Hotel is surrounded by enchanting and peaceful
environment and vividly embody the essence of Baroque
and Greek architectures. Shamian Island was classified
as a State Cultural and Historical Protectorate. It is endowed
with a rich history represented by the British and French
settlements there in the early 20th century, which is still
visible in the European-style architectures, such as the
French Catholic Church, the British Christian Church, prior
British and French Consulates and many other overseas
offices. Check-In: 2:00pm Check-Out: 12:00pm

Services

Business Center, Conmmission, Computer Hiring,
Medical affairs, Credit Card, Foreign currency change,
Shop, Flowers, Park, Ticket Service, Pick up

Facilities

Restaurant, Non-smoking rooms, Handicapped facilities,
Board-bank Internet Connection, Room service, CATV,
Washing Service, Safe, Multi-function meeting room,
Show Hall, Large-scale Projector, Kara OK, Danning
Room, Amusement Room, Table Tennis, Swimming Pool,
JYM, Hairdressing, Sanna Massage.

Features

The hotel has more than 20 distinctive style restaurants,
including deluxe Ball Room, romantic Cafe, and western-
designed Restaurant & Open-air Food Street. Chefs in the
hotel elaborately combine the essence of Chinese-style &
western-style cuisine, providing all kinds of delicious dishes
for your choice. The Chinese restaurants serve more than
200 distinctive refreshments at the morning & afternoon tea.
In our western restaurant, buffet breakfast, light meals are
served in the most convenient fashion during the day well into
the evening.