Legole.Com Discover china. Explore the beauty and wonder of the land, people, and culture of

China

.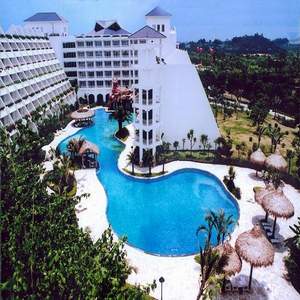 Yingbin Road, Guangzhou, China, 511430

Location: It is located on YingBin Road in Panyu, in the wild animal tourist spots. It is 66 kms to the airport, 35 kms to the railway station and 30 kms to the city centre.
Surrounding: the XiangJiang Safari
Accepted credit cards: Master, Visa, AMEX, JCB

Room Type Period Average(CNY/ USD)
Deluxe Room May 16,2005-Oct 13,2005 830/ 102
Family Flat(Four Persons) May 1,2005-Oct 13,2005 1070/ 132
Superior Room May 16,2005-Oct 13,2005 700/ 86

Payment

Pay at hotel reception
(This hotel requires you pay the full room charge directly at hotel reception by guarantee first.)

Profile

In China, the Chime Long Hotel is the only ecological theme
hotel that situates in the safari park. Its decoration abounds
with primitive creativity and touch.You would have a perfect
relaxation as if being embraced by the nature.

Services

air conditioning
business center
meeting facilities
In room movies
220 AC
Barber/Beauty Shop
Fire Place
Television with Cable
Wet Bar
Handicapped Rooms/Facilities
No Smoking room
Laundry/Valet Service
Fire Alarm with Light

Facilities

ChimeLong hotel possesses over 300 guest rooms and
executive floor completely tailored for business and
leisure travelers. The guestrooms are well appointed
with modern commercial service, such as
satellite TV
broadband internet access
voice mail
live broadcasting from home and aboard.
Over 300 guestrooms with 5 different features, everyone
of them is suffused with African wilds style. Enjoy the
leisurely vacation in our well-appointed guestrooms after
a hustle and bustle day.

Features

Kylin Chinese food restaurant is on the first and second
floor, offering Cantonese food and Chiu Chow food including
such precious food as abalone,ginseng,shark fin,but also
delicious fried dishes and fancy dim-sums.

White tiger western restaurant lies on the floor groud
of the hotel, built around the atrium.The customers can
enjoy both the delicious western food and the majesty of
the whiter tiger at the same time.

The crocodile lobby lounge is on the second floor of
the hotel.You can taste all kinds of fancy refreshments with
a kettle of coffee or tea.