Legole.Com Discover china. Explore the beauty and wonder of the land, people, and culture of

China

.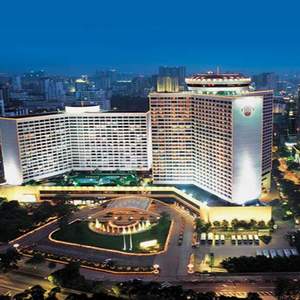 No. 368 Huanshi Dong Road, Guangzhou, China, 510064

Location: Distance from the airport 36 Kms, from the railway station 4 Kms and from the city centre is 4.5 kms.
Surrounding: Friendship Mall, World Trade Mansion, Yuexiu Park, Guangzhou Zoo
Accepted credit cards: Master, Visa, AMEX, Diners Club, JCB

Price And Booking

Room Type Period Average(CNY/ USD)
Elite Room May 1, 2005 - Oct 13, 2005 1096/ 135
Oct 14, 2005 - Oct 20, 2005 3303/ 408
Oct 21, 2005 - Oct 23, 2005 1403/ 173
Oct 24, 2005 - Oct 30, 2005 3511/ 433
Nov 1, 2005 - Dec 31, 2005 1096/ 135
Executive Room May 1, 2005 - Oct 13, 2005 1536/ 190
Oct 14, 2005 - Oct 23, 2005 3635/ 449
Oct 24, 2005 - Oct 30, 2005 3843/ 474
Nov 1, 2005 - Dec 31, 2005 1536/ 190
Executive Suite May 1, 2005 - Oct 13, 2005 2017/ 249
Oct 14, 2005 - Oct 20, 2005 4050/ 500
Oct 24, 2005 - Oct 30, 2005 4258/ 526
Nov 1, 2005 - Dec 31, 2005 2017/ 249

Payment

Prepayment
(This hotel requires you prepay the full room charge to Travel China Guide Hotel Center.)

Profile

In the heart of this thriving city is the beautiful Garden Hotel,
Guangzhou. The GardenHotel, Guangzhou is situated. In the
centre of the prosperous and pioneering business district of
Huanshi Dong the hub of commercial and financial activities
and development, within easy access to the train and ferry
terminals plus the proximity of the Bai Yun International and
Domestic Airport, and all conveniently commutable in the luxury
of the Garden's private limousine fleet. The magnificent lobby,
the largest of its kind in Asia, is richly decorated with unique
Chinese works of art and treasures, creating a harmonious
blend with its modern design and giving all who enter an
ambiance that will long be remembered.

Services

Luggage service
Car rentals
Laundry service
Child care
Room service
Express check-in/check-out
In-house medical clinic
Currency Exchange
Permanent English-speaking staff
Safety Deposit Boxes
Wake Up Call
Valet Parking
Valet Sevice
Dry Cleaning Service
Travel and tour desk
Airport Shuttle
24hr Reception
Massage

Facilities

The stylish design of the Garden Hotel reflects the
perfect blend of art and architecture within her twin
Y-shaped towers, comprising the 21-storey Garden
Tower with 800 offices and serviced apartments and
the towering 30-storey Garden Hotel with over 1,000
luxuriously appointed rooms and suites.
Air-conditioning
Mini-bar
IDD/DDD
Laundry service
Non-smoking room service
Bathroom telephone
Satellite TV
In-room safe
Other recreation including sprinkler, Beauty-centre,
Suitable for wheelchairs,Fire detector, Washhouse,
Fitness Centre, Billiards, Shop, Gymnasium

Features

There are no less than 12 restaurants and bars offering
delicacies from around the world. The Connoisseur is the
pride of the Garden and ultimate in French and Continental
dining pleasure. La Casa is the premier Italian restaurant in
town, with the most original Italian menu. The favourite meeting
place in town, the Greenery, is the cafe restaurant with a
difference. Live entertainment at night with Guangzhou's
most popular band. Enjoy the best panoramic view of
Guangzhou whilst savouring the best seafood buffet in
town in the Carousel, the city's top revolving restaurant.