Legole.Com Discover china. Explore the beauty and wonder of the land, people, and culture of

China

.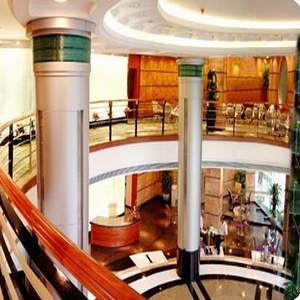 416 Huanshi East Road, Guangzhou, China, 510061

Location: It is 5km to the downtown area (the railway station) and 37km to the airport.It's only 50-minutes driving distance to New Baiyun Airport.5-minutes to the Guangzhou East Station.10-minutes to the new Exhibition Center.
Surrounding: East Huanshi Road
Accepted credit cards: Master, Visa, AMEX, Diners Club, JCB

Price And Booking

Room Type Period Average(CNY/ USD)
One Bedroom Suite May 9, 2005 - Oct 13, 2005 480/ 59
Oct 31, 2005 - Dec 31, 2005 480/ 59
Standard Room May 9, 2005 - Oct 13, 2005 400/ 49
Oct 31, 2005 - Dec 31, 2005 400/ 49
Three Bedroom Suite May 9, 2005 - Oct 13, 2005 760/ 94
Oct 31, 2005 - Dec 31, 2005 760/ 94
Two Bedrooms Suite May 9, 2005 - Oct 13, 2005 600/ 74
Oct 31, 2005 - Dec 31, 2005 600/ 74

Payment

Pay at hotel reception
(This hotel requires you pay the full room charge directly at hotel reception by guarantee first.)

Profile

The hotel is a service apartment according 5 star standards.
It is a new apartment hotel located in the busist heart of
Guangzhou. There are dozens of A-class office buildings
within 100 meters (such as International Building, Peace World
Plaza, Yi'An Plaza, World Trade mansion, Dongshan Square,
Zhongqiao Building, Wing Kin Plaza and so on). There are also
comprehensive supported facilities for shopping, entertainment,
hospitality, tourism, commerce and administration.
There are over 200 apartments in the hotel with the frames of
standard rooms, 1 bedroom 1 living room, 2 bedrooms and 1 living
room, and 3 bedrooms and 1 living room. The hotel is ideally
adorned to fit for the taste of guests especially in IT business.

Services

Car rental
Chinese restaurant
Western restaurant
Morning Call
Mini-bar
Internet Service
Tea/Coffee Boiling Pot
Refrigerator
Ticket Booking

Facilities

Meeting Facilities
Parking
Domestic Long-distance Access
International Long-distance Access
Laundry Service
Broadband Access in all room
Karaoke
In-door Swimming Pool
Sauna
Air Conditioning
IDD/DDD
Cable TV

Features

There is a night club and Western restaurant in the hotel.
There are many famous bars, department stores, various
restaurants and hotels around this hotel. You can choose
whatever you like and your stay with will be anything but
dull. For dining, the Chinese food served can mainly be
classified as Cantonese, Sichuan, Shandong, Yangzhou
and Chaozhou in taste. Western dishes mainly feature
French specialties.

Guest Comments

In response to your query, I am very satisfied with both hotel bookings and enjoyed all facilities offered very much. Your service was excellent and very easy to use and I look forward to booking again through your organisation.