Legole.Com Discover china. Explore the beauty and wonder of the land, people, and culture of

China

.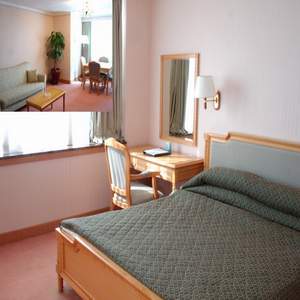 No. 621 Tianhe Road, Guangzhou, China, 510630

Location: located in the new business center in Guangzhou city. It is about 10 kms to the Canton Fair, 43 kms to the airport and 10.5 kms to the Guangzhou-Kowloon Railway Station.
Surrounding: Tianhe Stadium, Tianhe Park, Tianhe Entertainment Square, Tianhe Movie Centre
Accepted credit cards: Master, Visa, AMEX, Diners Club, JCB

Price And Booking

Room Type Period Average(CNY/ USD)
Deluxe Room Oct 31, 2004 - Oct 13, 2005 340/ 42
Superior Room Oct 31, 2004 - Oct 13, 2005 320/ 40

Payment

Pay at hotel reception
(This hotel requires you pay the full room charge directly at hotel reception by guarantee first.)

Profile

Majestic Hotel (Guangzhou) is a four-star Hotel located in Tian He
District, the commercial and shopping centre of Guangzhou. Majestic
Hotel has 211 spacious and well-appointed guest rooms. Moreover,
the Intelligent Convention Center in the hotel provides various innovative
service. Majestic Hotel(Guangzhou) is founded by famous Hong Kong
Entrepreneur, the Chairman of Laisun Group.It can ensure all guests
will have a delightful stay with us. Check out: 12:00 pm

Services

air conditioning
business center
meeting facilities
mini-bar
no smoking room
the room for disablemen
lobby lounge
IDD
coffee shop
internet access

Facilities

Majestic Hotel has 211 spacious and well-appointed guest rooms,
we provide single room, standard double room, deluxe double,
deluxe executive suite and presidential suite to meet your various
requirements. In order to give you the most comprehensive service,
all guest rooms are equipped with
broadband Internet connection
Video on demand equipment
satellite TV
central air condition
smoke detector
IDD phone
mini-bar
refrigerator and safe

Features

Concord Restaurant: Located in 11/F-12/F,western tower of
Tian He Entertainment Plaza with luxury funrishing,there is an
ideal venue for banquet up to 1000 people. With its award winning
menu, courteous waiter and our belief in quality.

Cafe Star Whisper: Located in the G/F of Tianhe entertainment
Plaza, is a western style restaurant capable for seating 100
people with room delivery service.

Jinyazhuang Viet-Thai Restaurant: Located in G/F of Tianhe
Entertainment Plaza, they provide Vietnam and Thai cuisine. You
may explore different taste of oriental food in there.