Legole.Com Discover china. Explore the beauty and wonder of the land, people, and culture of

China

.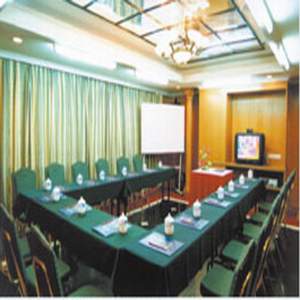 No. 412 Huanshi Dong Lu, Guangzhou, China, 510061

Location: It takes only 5 minutes by bus from the Hotel to the express train station. 37 kms to the airport, 4.5 kms to the railway station and 5.5 to the city centre.
Surrounding: Trade Fair, Guangzhou Zoo, Tianhe Stadium
Accepted credit cards: Master, Visa, AMEX, Diners Club, JCB

Price And Booking

Room Type Period Average(CNY/ USD)
Business Room Jul 1, 2005 - Aug 31, 2005 450/ 56
Sep 1, 2005 - Oct 13, 2005 450/ 56
Oct 31, 2005 - Dec 31, 2005 450/ 56
Standard Room Jul 1, 2005 - Aug 31, 2005 400/ 49
Sep 1, 2005 - Oct 13, 2005 388/ 48
Oct 31, 2005 - Dec 31, 2005 388/ 48
Suite May 1, 2005 - Oct 13, 2005 780/ 96
Oct 31, 2005 - Dec 31, 2005 780/ 96

Payment

Pay at hotel reception
(This hotel requires you pay the full room charge directly at hotel reception by guarantee first.)

Profile

Guangzhou Ocean Hotel, the delux 4-star hotel is a joint
venture. It attracts guests from all over the world with its
special sailingship-style architecture and refined services.
Ocean Hotel is located in the most efficient business
center, which enjoys convenient transportation.
Check in/out: 12:00 pm

Services

Room B&F Service
International Convention Hall
Health Center
Garden
Swimming Pool
Beauty Salon
Business Center
Bank
Shopping Arcade
Tour\Ticketing
Laundry
Health Center
Billiards Room
Karaoke
Car-renting service.

Facilities

Foyer, Elevator, Garage with security, Private parking,
Business floor, Room suitable for handicapped people,
Hotel safe, Air-conditioning, Disco, Night Club, Sauna,
Fitness room, Smoke alarm, Water sprinkler, Beauty-
centre, Suitable for wheelchairs, Fire detector, Washhouse,
Fitness Centre, Billiards, Chess & Playing Cards Room,
Shop, Gymnasium.

Features

The five Chinese and Western restaurants can comfortably
seat 1000 people.The Chinese food served here can mainly
be classified into Cantonese, Sichuan, Shandong, Yangzhou
and Chaozhou cuisines. Western dishes mainly feature French
specialties (also available is Japanese sushi).

Guest Comments

TCG provided a very accurate and dependeble service to me which i appreciate and it was completely satisfactory. Ocean hotel was located in a very good and prestigious location of the city but frankly, my expectation of a business room of a four star hotel was far above what i experienced there. last time i was in a 3 star hotel but i did not see any iportant difference between these two. Any how, it was a great trip for me to China,

P.S: the staff of the hotel were so nice.

Looking forward to having more business with TCG.