Legole.Com Discover china. Explore the beauty and wonder of the land, people, and culture of

China

.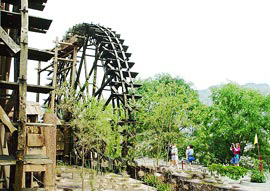 Location: situated in the central part of Gansu province, near China's geographic center; on the upper reaches of the Yellow River, between north latitude 10230' - 10430'

Neighboring Areas: Shaanxi, Sichuan, and Qinghai provinces, Inner Mongolia, Ningxia Hui and Xinjiang Uygur Autonomous Regions

Physical Features: a narrow stripe along the southern banks of the Yellow River, with the character of zonary basin; surrounded by mountains in the south and north, the Yellow River flows through from east to west

Population: 280 million
Urban Population: 9.2 million
Area: 14,620 sq km

Nationalities: Han, Hui, Tibetan, Bonan, Dongxiang, Yugu and Sala

History: used to be called the Golden City, is an important stop along the Silk Road and has a history of over 2,000 years; It has been important for thousands of years because of the Hexi Corridor, or "Corridor West of the Yellow River", in which early Chinese civilization began; in the Zhou dynasty of 3,000 years ago, agriculture began to take shape in the basins of the Jin and Wei rivers which formed the corridor, marking the beginning of the great Yellow River basin civilization; It is now the capital of Gansu province

Climatic Features: located in the north temperate zone with mild continental climate and great temperature difference; less rain, droughty and dry; with frost-free period above 180 days; sunshine abundant of 2446 hours; without cold winter and hot summer

Average Temperature: July is the hottest, with the average temperature of 22.2C; January is the coldest, with the average temperature of 6.9C; annual average 10.3C
Rainfall: annual precipitation 327mm, evaporation 1468mm, relative humidity 56%

Mountains:
Qilian Ranges, Mt. Pingliang and Mt. Kongtong - the most famous in Taoism

Rivers: Yellow River and its branches, Yantan Beach

Local Highlights: Qinqiang Drama.