Legole.Com Discover china. Explore the beauty and wonder of the land, people, and culture of

China

.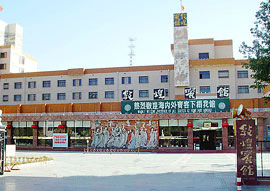 Location: located in the west of Hexi Corridor of Gansu province of China

Neighboring Areas: Shaanxi, Sichuan, and Qinghai provinces, Inner Mongolia, Ningxia Hui and Xinjiang Uygur Autonomous Regions

Physical Features: at the west end of Hexi corridor, a tiny oasis rounded by high mountains, desert and Gobi, with the average altitude of 1100m

Population: 100,000
Area: 3,120 sq km

Nationalities: Han, Hui, Tibetan, Manchu, Dongxiang, Yugu, Baoan, Mongolian, Kazak, Tu, Sala, and Manchu

History: made a prefecture in 117B.C. by Emperor Han Wudi, and was a major point of interchange between China and the outside world during the Han and Tang dynasties

Climatic Features: warm variable zone, aridity climate with the frost-free period of 160 days, windy

Average Temperature: 9.3C annually, annual or daily difference in temperature great, common saying: "morning with fur-lined jacket, noon gauze", hot summer with the highest temperature over 40C
Rainfall: annual precipitation 1982.7 mm, concentrated in spring and autumn

Mountains: Mt. Sanweishan

Rivers: Dang River, Shule River

Products: Liguang Apricot, Ziyang Peach, Mingshan Dates, Yangguan Grape, Watermelon of Murmurous Flesh, Bailan Melon, Huanghemi Melon, apple-pear, apple

Local Highlights: Qinqiang Drama, handcraft carpet.