Legole.Com Discover china. Explore the beauty and wonder of the land, people, and culture of

China

.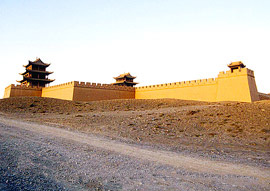 Location: located in the Gobi desert, at the middle of Hexi Corridor, 600 kms from Lanzhou, 5 - 6 hours away by bus from Dunhaung

Neighboring Areas: Shaanxi, Sichuan, and Qinghai provinces, Inner Mongolia, Ningxia Hui and Xinjiang Uygur Autonomous Regions

Population: 130,000
Area: 2,935 sq km

Nationalities: Han, Hui, Tibetan, Dongxiang, Yugu, Baoan, Hazake, Tu, Sala, Manchu, and Mongolian

History: historically, a small township engaged in local trading, catering to the needs of the military garrisons stationed at the fort; as a Han outpost and in 1372, during the Ming dynasty, a fortress was built to protect the last frontier of the Chinese empire

Climatic Features: warm variable zone, aridity climate with the frost-free period of 160 days

Average Temperature: January with temperature as low as - 21C, August with temperature as high as 34C; Sandstorm - March to May; Strong Wind - November and December; annually with the highest of 38.7C and lowest of 0C, annual and daily difference in temperature great.
Rainfall: annual precipitation 100 mm, with rainfall concentrated in summer

Mountains: Qilianshan Range

Rivers: Beidahe River

Products: wheat, corn, millet, buckwheat,jowar, white potato, potato, cotton, benne, beet, tobacco, stock raising

Local Highlights: Qinqiang Drama, Jiuquan Cup of phosphorescent jade, handcraft carpet.