Legole.Com Discover china. Explore the beauty and wonder of the land, people, and culture of

China

.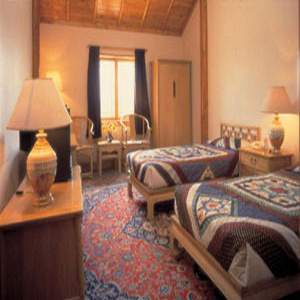 Dunyue Road, Dunhuang, China, 736200

Location: The Silk Road Dunhuang Hotel is situated below the famous Mingsha Hills.The hotel is located 3 km South of Dunhuang city centre, a convenient 25 minute drive from the airport, and 30 minutes to the stunning Magao Grottoes by hotel bus.
Surrounding: Singing Sand Mountain, Crescent Moon Spring, Dunhuang Historical Garden
Accepted credit cards: Visa, AMEX, JCB

Price And Booking

Room Type Period Average(CNY/ USD)
Deluxe Room Nov 1, 2004 - Dec 31, 2005 680/ 84
Standard Room Apr 12, 2005 - Dec 31, 2005 680/ 84
Suite Apr 12, 2005 - Dec 31, 2005 1660/ 205

Payment

Pay at hotel reception
(This hotel requires you pay the full room charge directly at hotel reception by guarantee first.)

Profile

The Silk Road Dunhuang Hotel was built to recognise the
incredible historical richness of the Silk Road, providing the
opportunity for tourists and academic professional to come
from around the world to examine these ancient treasures.
The hotel was built in a traditional North-West Castle style,
fully furnished with Ming reproduction furniture, so to reflect
the Silk Road's Cultural richness, offering guests a memorable
experience. Check in/out: 12:00 pm

Services

The hotel provides the following services to the guests in the hotel,
including

Meeting Facilities
Business Center
Domestic Long-distance Access
International Long-distance Access
Coffee Shop
Camel riding
Sauna
Sand sledding
Sand bathing
Live entertainment traditional dance

Facilities

Offering 300 rooms, all rooms are furnished to reflect the
traditional customs and lifestyle of the North-West of China.
Built around a secluded square, the Courtyard Villa contains
comfortable suites featuring wood, light green brick and tile,
which are designed to reflect the serenity of rural life.
mini-bar
IDD
satellite/cable TV
laundry service
in-room safe
air conditioning

Features

Sample the best of authentic Chinese cuisine at Feng Yi
Ting, Chamber of Grandeur. The restaurant is decorated
in the traditional style with red hanging lanterns. In this
classical setting you can enjoy the dishes especially
brought in to create the finest in Cantonese and Sichuan
delicacies.