Legole.Com Discover china. Explore the beauty and wonder of the land, people, and culture of

China

.

Bingling Thousand Buddha Caves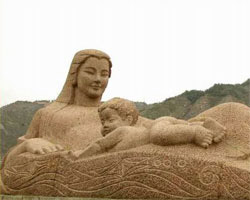 Fifty kilometers west of the Yongjing County, the Thousand Buddha Caves of Bingling Temple is on the Jishi Hill. Boating from the nearby Liujiaxia Dam, one of China's hydropower dams, for several minutes, you can see the Jishi Hill on which the caves are excavated.
Bingling is a transliteration of Tibetan, which means Ten Thousand Buddha, just the common name of Buddhist caves in China. They were initially made in 420, and expanded several times through the ages. Nowadays, there still exist 183 niches, 694 stone statues, 82 clay sculptures, and 900 square meters of murals. All the statues, sculptures and murals exhibit superb craftsmanship, and have great artistic appeal. These caves, which stretch for 200 meters, include the caves of Western Qin, North Wei, Sui, Tang, and Song, Yuan, Ming, Qing dynasties.
The most imposing is the statue of Maitreya (the Buddha of the Future), which is 27 meters high, and stands out as the first sight of the caves from the river. Its cover has fallen off, possibly because the Buddha was made of straw and stucco over an inner wooden frame.
Cave 169 is the oldest cave from the Eastern Jin period (a disturbed period in China's history when China was split into several states). The cave has 24 niches, which contain nineteen stone Buddha and 39 clay figures. Murals on the wall are dedicated to Buddha, Bodhisattva, Apsara, etc.
It has great value for research of the history of Chinese painting, and the spread of Buddhism during that time.Between June (sometimes as late as July) and October, tourist boats depart daily from the dam to Bingling Si, while during the winter months the water level is too low for boats, and there is no access by road. Staircases have been built onto the rock-face to make your visit more convenient.
Admission Fee: 25
Opening Hours: 09:10 to 11:30 in the morning,
14:40 to 17:30 in the afternoon, from Tuesday to Saturday
Recommended
Time for a Visit: One day
Bus Route: Take bus from Lanzhou to Liujiaxia Reservoir, then transfer to barge.