Legole.Com Discover china. Explore the beauty and wonder of the land, people, and culture of

China

.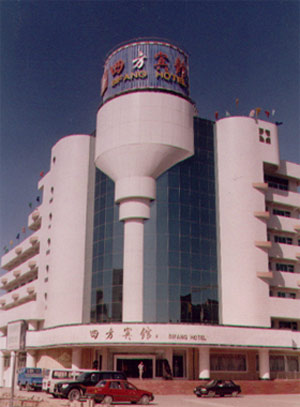 No. 788 Xijin Xi Road, Qilihe District, Lanzhou, China, 730050

Location: It is located at Qilihe District. This hotel enjoy a good transportation link and is about 20km from the railway station and 10km from the city center.
Surrounding: Baita park
Accepted credit cards: Master, Visa, AMEX, Diners Club, JCB

Price And Booking

Room Type Period Average(CNY/ USD)
Deluxe Standard Room Jan 1, 2005 - Dec 31, 2005 360/ 44
Deluxe Suite Jan 1, 2005 - Dec 31, 2005 668/ 82

Payment

Pay at hotel reception
(This hotel requires you pay the full room charge directly at hotel reception by guarantee first.)

The room price is quoted in both CNY and USD. After you submit your booking form, our memo table will show you the total room price in CNY,not USD, and which is the figure you need pay at the hotel reception.
The room price has included 15% service charge, but excludes any sort of tax.
One room price excludes or includes one or two daily breakfasts served in the hotel.
The hotel keeps the reservation till 18:00 if no any advance note.
Hotel's stipulated check-in time at 14:00 and check-out time at 12:00. Early check-in and late check-out are subject to room availability. The hotel might request half day or full day room price for late check out.

Profile

The Savoy hotel is the only hotel in Lanzhou city that provides
facilities especially for guild members. Managed by the singapore
hotel Management group, the 19 story compex has 72 deluxe
rooms equipped with advanced business facilities. The excellent
leisure facilities and superb restaurants make the hotel an ideal
place to stay. Check out: 12:00 pm

Services

There are also variously sized meeting rooms and a multi
function hall that can hold up to hundred people, equipped
with audio visual systems and big-screen projectors.The
business center provides photocopying, typing, fax and
ticket reservation services.
air conditioning
beauty salon
sauna
foreign exchange
swimming pool
massage center

Facilities

This 19 floor hotel boasts a total of 788 rooms, ranging from
single rooms to deluxe suites. There is also a Presidential Suite.
All of these are equipped with air-conditioning, telephones and
satellite televisions.

Features

The hotel boasts offers a Chinese restaurant, a Western
restaurant, a coffee bar. You can taste different cuisine in
different place, and we are sure you can relax yourselves
in the coffee bar for it is good place to stay.Besides, it also
offers billiards room, sauna and massage center, swimming
pool and store.