Legole.Com Discover china. Explore the beauty and wonder of the land, people, and culture of

China

.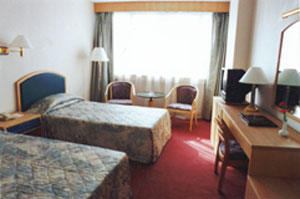 No. 133 Tuanjie Xincun, Dingxi Road, Lanzhou, China, 730000

Location: It is located close to the railway station and
Surrounding: The Red East Square
Accepted credit cards: Master, Visa, Diners Club, JCB

Price And Booking

Room Type Period Average(CNY/ USD)
Deluxe Room May 1, 2005 - Oct 31, 2005 410/ 51
Nov 1, 2005 - Mar 16, 2006 370/ 46
Deluxe Suite May 9, 2005 - Oct 31, 2005 860/ 106
Nov 1, 2005 - Mar 16, 2006 760/ 94
Standard Room May 1, 2005 - Oct 31, 2005 360/ 44
Nov 1, 2005 - Mar 16, 2006 330/ 41
Standard Suite May 9, 2005 - Oct 31, 2005 660/ 81
Nov 1, 2005 - Mar 16, 2006 570/ 70

Payment

Pay at hotel reception
(This hotel requires you pay the full room charge directly at hotel reception by guarantee first.)

The room price is quoted in both CNY and USD. After you submit your booking form, our memo table will show you the total room price in CNY,not USD, and which is the figure you need pay at the hotel reception.
The room price has included 15% service charge, but excludes any sort of tax.
One room price excludes or includes one or two daily breakfasts served in the hotel.
The hotel keeps the reservation till 18:00 if no any advance note.
Hotel's stipulated check-in time at 14:00 and check-out time at 12:00. Early check-in and late check-out are subject to room availability. The hotel might request half day or full day room price for late check out.

Profile

The Xilan hotel is a four luxury star hotel which situated in
the railway station. Fully and comfortable service enable
you to have an exceptional feeling of pride. The hotel is a
real palace of the ultimate in comfort and gracious service
for all guests. Check out: 12:00 pm

Services

Air conditioning
Bar & Lounge
Beauty Salon
Baby Sitting Service
Conference Facilities
Card Room
English Speaking staff
Mone Exchange
Mini Theatre
Snooker Room
Restaurant
110 Voltage Plug
Ticket Service

Facilities

The hotel totally has over 200 guestrooms, such as
standard room, deluxe suites, executive suites and
presidential suite. All roomsare elegant appointed and
offered execllent service.Air conditioning,IDD/DDD,
hairdryer, laundy, satellite TV, mini barinternet access

Features

The hotel revolving restaurant provides delicious Chinese
cuisine.Western dishes is also make you feel relax and can
leisure your time. Meanwhile, coffee bar make you forget all
the fatigue of trip.Other facilities include a night club, indoor
swimming pool, gymnasium and sauna.