Legole.Com Discover china. Explore the beauty and wonder of the land, people, and culture of

China

.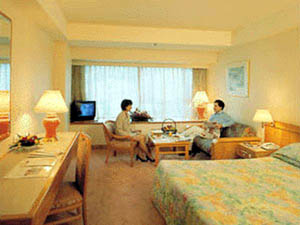 No. 34-36 Tai Chung Kiu Road, Shatin, New Territories, Hong Kong, China

Location: is easily accessible from Hong Kong's major shopping, tourist and business districts by various types of public transportation and our free shuttle bus service.Only a few minutes' drive to the Shatin KCRC station.
Surrounding: Kowloon Island
Accepted credit cards: Master, Visa, AMEX, Diners Club, JCB

Price And Booking

Room Type Period Average(HKD/ USD)
Standard Room Jul 1, 2005 - Jul 31, 2005 625/ 80

Payment

Prepayment
(This hotel requires you prepay the full room charge to Travel China Guide Hotel Center.)

The room price is quoted in both HKD and USD. After you submit your booking form, our memo table will show you the total room price in HKD,not USD, and which is the figure you need pay at the hotel reception.
The room price has included 15% service charge, but excludes any sort of tax.
One room price excludes or includes one or two daily breakfasts served in the hotel.
The hotel keeps the reservation till 18:00 if no any advance note.
Hotel's stipulated check-in time at 14:00 and check-out time at 12:00. Early check-in and late check-out are subject to room availability. The hotel might request half day or full day room price for late check out.

Profile

Overlooking the magnificent Shing Mun River in Shatin, Regal
Riverside Hotel is an international standard city-resort offering
a relaxing break from the daily hustle and bustle. The hotel, in a
lush setting, provides business and leisure travellers with excellent
value-for-money accommodations, fully equipped conference
and banquet facilities, a selection of dining venues, as well as
fine recreational facilities.
A three-minute drive from the Shatin Kowloon-Canton Railway
station, the huge shopping and business complex nearby, the
hotel is 41 km (about 40 minutes by car) away from the Hong
Kong International Airport, and is conveniently linked to Hong
Kong' s major commercial and shopping districts by public
transport or its free shuttle bus service.
All 830 well appointed guest rooms provide a spacious and
private retreat in which to work or simply unwind. All rooms
feature individually controlled air-conditioning, coffee and tea
making facilities and a fully stocked mini-bar. For extra comfort,
our tastefully furnished corner suites feature an elegant and
roomy living area ideal for informal meetings and entertainments.

Services

Chinese Cuisine
Western Cuisine
Cafe
Bar / Lounge
Room Service
Gym
Sauna & massage center
Beauty salon
Business center
Airport transfer
Car rental
Non-smoking floors
Covered car park
Safe deposit boxes
Translation service
Vending machines

Facilities

Room service (from 6:00am to 12:30am)
6M Broadband Service
24-hour front desk
24-hour security
Airport shuttle bus service
Babysitting service
Hair salon
Concierge
Currency exchange
Facsimile
Gift Shop / Newsstand
In-room pay movies
Laundry / Dry-cleaning services
Limousine and car rental

Features

At Regal Riverside Hotel, there are two restaurants and a bar
serving Western, Chinese, delightful drinks and snacks to bring
patrons an unsurpassed culinary experience and spectacular
entertainment.
Overlooking the hotel's outdoor swimming pool and Shing Mun
River, Botania Restaurant offers a wide selection of mouth-watering
delicacies, Executive Lunch and Dinner Buffet.
With live music and delightful drinks and wine, the Carnival Bar is
an ideal place for gatherings and relaxation.