Legole.Com Discover china. Explore the beauty and wonder of the land, people, and culture of

China

.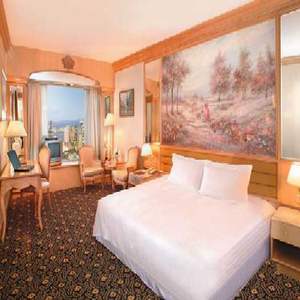 88 Yee Wo Street, Causeway Bay, Hong Kong Island, Hong Kong, China

Location: located opposite Victoria Park in the heart of Causeway Bay, Hong Kong's thriving business, entertainment and shopping district.
Surrounding: Hong Kong Island
Accepted credit cards: Master, Visa, AMEX, Diners Club, JCB

Price And Booking

Room Type Period Average(HKD/ USD)
Standard Room Jul 16, 2005 - Jul 31, 2005 917/ 118

Payment

Prepayment
(This hotel requires you prepay the full room charge to Travel China Guide Hotel Center.)

The room price is quoted in both HKD and USD. After you submit your booking form, our memo table will show you the total room price in HKD,not USD, and which is the figure you need pay at the hotel reception.
The room price has included 15% service charge, but excludes any sort of tax.
One room price excludes or includes one or two daily breakfasts served in the hotel.
The hotel keeps the reservation till 18:00 if no any advance note.
Hotel's stipulated check-in time at 14:00 and check-out time at 12:00. Early check-in and late check-out are subject to room availability. The hotel might request half day or full day room price for late check out.

Profile

Situated in the heart of Causeway Bay, Hong Kong's vibrant
commercial and shopping district, the deluxe five-star Regal
Hongkong Hotel is the epitome of luxury and elegance where
international business and leisure travellers are pampered with
stylish comforts, contemporary amenities and impeccable
service in an opulent Baroque setting. The hotel offers an exquisite
selection of gourmet dining and entertainment venues in addition
to tastefully furnished guestrooms, as well as a series of refined
function rooms befitting all kinds of conferences and banquets.
Opposite to the Victoria Park, the hotel is a five-minute drive from
the Hong Kong Convention and Exhibition Centre, and just 45 minutes
from the Hong Kong International Airport.
Regal Hongkong Hotel offers 425 guest rooms including 30 suites,
all with a classical and elegant European grace blended with the
warmth of Oriental hospitality.
Regal Hotels International is the largest hotel group in Hong Kong.
Our five first class hotels each offer a distinctive environment,
and are strategically located around the territory so that wherever
your business takes you, we'll be there to accommodate you.
From the largest global conventions to the most private company
meetings, we provide venues and facilities that ensure both smooth
and flawlessly tailored engagements. This, combined with the territory's
largest inventory of prime guest rooms, create an ideal environment
for your conferencing needs.

Services

Chinese Cuisine
French Restaurant
Japanese Restaurant
American Restaurant
Function Rooms
Individually-contolled air-conditioning
IDD telephone
Ballroom - Bars
Beauty and hair salon
Business Centre
Coffee Shop
Limousine and Rolls Royce Service
Meeting equipments
Money exchange
Safe deposit boxes
Same day laundry and valet service
Shoe polish
Lobby Lounge
Mini Bar with refrigerator
Music Channels

Facilities

Non-smoking floor
Personal safe
Regal Class
Regal Club (Executive Floor)
Remote Control color TV
Satellite TV Channels
Shopping Arcade
Audio-visual equipments
Baby-sitting service
China tour/sightseeing
Concierge
Express check-in/out service
Postal service
Sauna & Massage
24-hour room service
24-hour telex and facsimile service
Valet and travel arrangements

Features

Regal Hongkong Hotel offers three restaurants, a lobby lounge,
a sports bar, a party room and a patisserie.
Awarded the title of the Ambassador of Italian Cuisine in the
World, Zeffirino Ristorante boasts a sixty-year long tradition
spanning four generations. Its culinary flame sets Asia ablaze
with the opening of Zeffirino at Regal Hongkong Hotel on 7th May,
2001. Located on the top floor of the hotel, the restaurant commands
a magnificent panoramic harbour view, serving lunch, dinner and
drinks. Two VIP rooms are also available for Private Function.