Legole.Com Discover china. Explore the beauty and wonder of the land, people, and culture of

China

.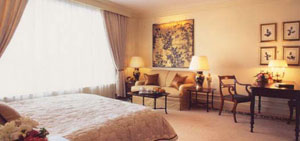 Salisbury Road, Kowloon, Hong Kong, China

Location: The hotel is also located across the road from the Hong Kong Cultural Centre and Hong Kong Museum of Art,Hong Kong International Airport is 45 minutes away by car and 23 minutes by rail from the hotel.
Surrounding: Hong Kong Museum of Art, Hong Kong Space Museum
Accepted credit cards: Master, Visa, AMEX, Diners Club, JCB

Profile

The Peninsula Hong Kong is the most historical hotel in Hong
Kong, having first opened in 1928. Extensive renovation and
the addition of the tower in 1994 have also made it one of Hong
Kong's most classic hotels. The hotel offers a unique array of
dining experiences and function venues. Extensive spa facilities
include a full harbor-view, Roman-style swimming pool, sun terrace,
gymnasium, and beauty and hairdressing salon. A fleet of Rolls-
Royce limousines, as well as a helicopter service, are ultimate
transfer options offered by the hotel.
Check in: 02:00 Check out: 12:00 pm

SErvices

air conditioning
baby sitting
banquet facilities
bar & lounge
barber & beauty salon
business centre
coffee shop
conference facilities
fitness centre
foreign exchange
non-smoking rooms
parking
shopping arcade
swimming pool

Facilities

Among the most spacious in Hong Kong, all rooms and
suites in The Peninsula Hong Kong are furnished to the
very highest standards of luxury, blending classical Eur-
opean elegance with subtle oriental influences. Rooms
are designed not only for their comfort and style, but also
for maximum convenience, including advanced technology.
Guests have a choice of rooms and suites in either the
grand, historic Main Building or the more contemporary
floors of The Peninsula Tower, with commanding views
of the harbor and the city

Features

The Spring Moon Chinese Restaurant incorporate stained
glass, wood panelling and flooring, art deco features and
Frank Lloyd-Wright highlights combine to give a period feel
making the restaurant reminiscent of a 1920's dining room,
while traditional touches such as dim sum trolleys, a tea
counter with over 20 selected Chinese teas and highly
trained tea masters in attendance make this a memorable
Cantonese dining experience.