Legole.Com Discover china. Explore the beauty and wonder of the land, people, and culture of

China

.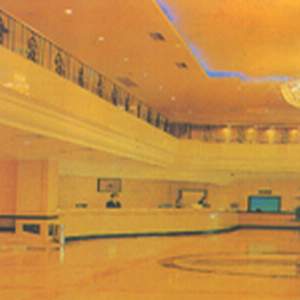 East Section of Shudu Road, Chengdu, China, 6120066

Location: It is situated near the Chengdu Art Center, is 10 kilometers from the capital's railway station and 15 kilometers from the airport.
Surrounding: Chengdu Art Center
Accepted credit cards: -

Price And Booking

Room Type Period Average(CNY/ USD)
Deluxe Room Mar 29, 2005 - Dec 31, 2005 340/ 42
Deluxe Suite Jan 1, 2005 - Dec 31, 2005 490/ 60
Executive Suite Jan 1, 2005 - Dec 31, 2005 600/ 74
Standard Room Mar 29, 2005 - Dec 31, 2005 240/ 30
Standard Suite Jan 1, 2005 - Dec 31, 2005 420/ 52

Payment

Pay at hotel reception
(This hotel requires you pay the full room charge directly at hotel reception by guarantee first.)

Profile

The Chengdu hotel is three-star standard hotel which is
situated near the Chengdu Art Center.Highest standard
of service from its entire staff. Its cordial attitude, caring
response and attractive sevice will leave nothing to be
desired. Check in:02:00 pm Check out: 12:00 pm

Services

Business center
Conference facilities
Ticket booking
Air conditioning
Parking
Direct dial Telephone
Restaurant
Coffee Bar

Facilities

There are total 249 guestrooms and suites, including standard
rooms measuring 29 square meters, deluxe suites. Each room
is fully equipped air conditioning, IDD, mini-bar,laundry service,
satellite TV.The hotel's business center offers basic services,
along with seven meeting rooms. The largest room can hold up
to 400 people.

Features

The hotel's restaurant serves Sichuan and Western dishes,
buffetes and hotpots.You can enjoy the different dishes and
ciusine in different restaurant. For recreation, the hotel provides
a nightclub, a gym, a sauna center, a beauty salon and a shopping
arcade.