Legole.Com Discover china. Explore the beauty and wonder of the land, people, and culture of

China

.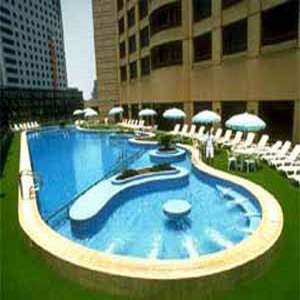 99 Xiaxi Shuncheng Street, Chengdu, China, 610016

Location: Distance from Centre of city 0 Km, from the airport 22 Km, from the railway station 10 Km
Surrounding: People's Square and Tianfu Square
Accepted credit cards: Master, Visa, AMEX, Diners Club, JCB

Room Type Period Average(CNY/ USD)
Business Deluxe Room May 1, 2005 - Aug 31, 2005 518/ 64
Business Suite May 1, 2005 - Aug 31, 2005 788/ 97
Standard Suite May 1, 2005 - Aug 31, 2005 788/ 97
Superior Business Room May 1, 2005 - Aug 31, 2005 518/ 64

Payment

Pay at hotel reception
(This hotel requires you pay the full room charge directly at hotel reception by guarantee first.)

Profile

The Yinhe Dynasty Intercontinental Hotel was Chengdu's first
luxurious international hotel. The hotel is conveniently located
in the bustling commercial and recreational center of Chengdu,
the biggest and most modernized city in China's vast southwest.
The hotel can be easily accessed by all means of transport. The
hotel is also adjacent to the Chengdu International Convention &
Exhibition Center. Run by the Inter-Continental Hotel Group,
the 380 guest rooms are equipped with advanced and complete
facilities to meet international standards. The hotel restaurants
serve local specialties and international cuisine. All food is
prepared by renowned cooks from different cities throughout
China. One may choose from the wide options available in
the Trium Cocktail Lounge, Le Cafe, Seasons Cantonese
Check-In Time : 1200 Check-Out Time : 1200

Services

Luggage service
Car rentals
Laundry service
Child care
Room service
Express check-in/check-out
In-house medical
clinic
Currency Exchange
Permanent english-speaking staff
Safety Deposit Boxes
Wake Up Call
Valet Parking
Valet
Sevice
Dry Cleaning Service
Travel and tour desk
24hr Reception

Facilities

Air conditioning
AM/FM radio
Alarm clock
Color Television
Cable/satellite TV
Complimentary newspaper
Coffee/tea maker
Telephone
Hair dryer
In-room safe
Electronic locks
Smoke Detectors
Iron and ironing board
Refrigerator
In-house movies
Bath and Shower
Mini Bar

Features

The hotel offers Chengdu's largest and most delicious variety
of local and international cuisine. Crystal House specializes
in authentic Hot Pot cooking, Season's brings you the taste
of Hong Kong-style Cantonese cuisine as well as fresh seafood.
Le Cafe offers all-day dining with Asian and international
Specialties. The Atrium has an extensive selection of Italian
coffees and famous Chinese teas. There's also a pastry shop
and delicatessen.