Legole.Com Discover china. Explore the beauty and wonder of the land, people, and culture of

China

.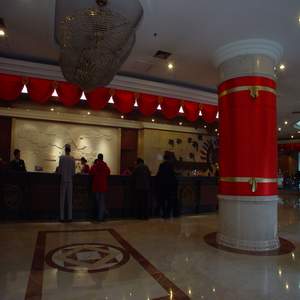 No. 8 Zongfu Road, Chengdu, China, 610016

Location: It is located in the heart of Chengdu.It needs 30 minutes to the airport, 15 minutes to railway station, 10 minutes to Chengdu-Chongqing expressway station
Surrounding: Shopping mall
Accepted credit cards: Master, Visa, AMEX, Diners Club, JCB

Price And Booking

Room Type Period Average(CNY/ USD)
Deluxe Business Single Room May 10, 2005 - Jul 31, 2005
575/ 71
Aug 1, 2005 - Dec 31, 2005 530/ 65
Deluxe Executive King-size Bed Room Jan 1, 2005 - Dec 31, 2005 718/ 89
Deluxe Standard Room Mar 26, 2005 - Dec 31, 2005 345/ 43
Deluxe Suite Mar 26, 2005 - Dec 31, 2005 528/ 65
Standard Room Mar 26, 2005 - Dec 31, 2005 295/ 36

Payment

Pay at hotel reception
(This hotel requires you pay the full room charge directly at hotel reception by guarantee first.)

Profile

The Prime hoteli (four-star) hotel is located in the heart of
Chengdu, only three kilometers from the railway station
and 10 kilometers from the airport.With its convenient
location and the combination of its quiet surroundings
and the busy city life.It is one of the most ideal hotels
for you to stay. Check in: 02:00 pm Check out: 12:00 pm

Services

Business Center
Karaoke bar
Gym
Sauna and massage center
Restaurants
Swimming pool
Chess and cards room
Beauty salon
Nightclub
Shopping arcade
Parking
Beauty salon

Facilities

Prime Hotel boasts has 235 guestrooms and suites.Each
room has well-decorated facilities, air conditioning, mini-
bar, IDD, laundry service,24 hours service, in-room safe,
cable TV, internet access.The business center and con-
ference room can offer fully service and capacity for all
businessman.

Features

There are several restaurants in the hotel. Chinese restaurant
Western restaurant and lobby bar. These elegant restaurant
provides clssic Sichuan dishes and serves you in such a way
as to satisfy all your requirement, whether for dining with relatives
and friends of for holding a banquet.Prime Hotel has a gym, a
swimming pool, a chess and cards room, a karaoke bar, a
beauty salon, a nightclub and a shopping arcade.

Guest Comments
We are very happy with the quick response time and the additional help given.

As for the facilities in this hotel, we can't say much as we did not really explore the hotel and did not have the luxury of the time. However, we are very happy with the location which is next to the shopping area.