Legole.Com Discover china. Explore the beauty and wonder of the land, people, and culture of

China

.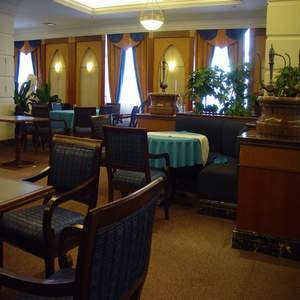 No. 10 North Renmin Road, Chengdu, China, 610081

Location: 18 kilometers away from the international airport and 2 kilometers away from the railway station
Surrounding: City Center
Accepted credit cards: Visa, AMEX, JCB

Room Type Period Average(CNY/ USD)
Business Deluxe Single Room Mar 31,2005-Aug 31,2005 560/ 69
Sep 1,2005-Oct 31,2005 585/ 72
Nov 1,2005-Feb 28,2006 513/ 63
Business Suite Mar 31, 2005 - Aug 31, 2005 760/ 94
Sep 1, 2005 - Oct 31, 2005 865/ 107
Nov 1, 2005 - Feb 28, 2006 743/ 92
Deluxe Room Mar 31, 2005 - Aug 31, 2005 560/ 69
Sep 1, 2005 - Oct 31, 2005 585/ 72
Nov 1, 2005 - Feb 28, 2006 513/ 63

Payment

Prepayment
(This hotel requires you prepay the full room charge to Travel China Guide Hotel Center.)

Profile

For travelers who wish to pay a visit to Tibet by air, a comfortable
room and a good nights rest in Chengdu is necessary before entering
the mysterious plateau. The Chengdu Tibet Hotel is an ideal place
to do just that! This is a modern 4-star international tourist hotel
sponsored by the People's Government of the Tibet Autonomous
Region and specially built to provide a full range of services for trips
to Tibet. The main building of the Hotel is stands 18 floors high and
has various rooms including splendid suites, business suites and 285
standard rooms, all of which are provided with central air-conditioning
system, IDD and DDD service, satellite broadcasting televisions, audio,
VOD television request program system, Internet system, and a business
floor. check in time after 15:00, check-out time before 12:00 in the noon

Services

Lobby Bar
Red Palace Dancing Restaurant
Pearl Star
Restaurant
Western Restaurant
Banquet Hall
Red Palace
SPA
Red Palace Singing Hall
No Smoking Hall
Lady Floor
Business Center
WEB Service Room
Night Club
Beauty
Salon
Shopping Center
Conference Hall
Fitness Center
Bowling
Chess Hall
IDD
Ticket Booking
Car-renting
Image Designing Room

Facilities

Car rental
Airport transfers
Business Facilities
Conference
room
Business centre
Recreational Facilities
Swimming pool
Gymnasium

Features

The restaurant offers seafood, a Western-style food hall and a
lobby bar providing Sichuan, Cantonese and Tibetan cuisine.
The hotel has 5 small meeting rooms and a multi-functional
International Conference Hall on the 17th floor, which can hold
300 persons at one time.