Legole.Com Discover china. Explore the beauty and wonder of the land, people, and culture of

China

.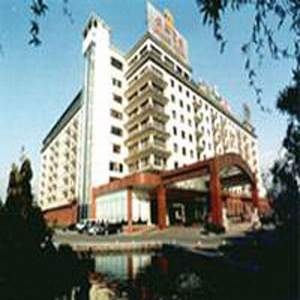 No. 80 Section 2, Ren Min Nan Ave, Chengdu, China, 610012

Location: close to the River Jinjiang, 8 kms from the North Railway Station & 17 kms from Shuang Liu International Airport.
Surrounding: the River Jinjiang
Accepted credit cards: Master, Visa, AMEX, Diners Club, JCB

Room Type Period Average(CNY/ USD)
Deluxe Room Jun 1, 2005 - Jul 27, 2005 847/ 105
Jul 28, 2005 - Aug 31, 2005 799/ 99
Sep 1, 2005 - Nov 15, 2005 913/ 113
Nov 16, 2005 - Mar 15, 2006 805/ 99
Superior Room Jun 1, 2005 - Jul 27, 2005 764/ 94
Jul 28, 2005 - Aug 31, 2005 699/ 86
Sep 1, 2005 - Nov 15, 2005 855/ 106
Nov 16, 2005 - Mar 15, 2006 722/ 89

Payment

Prepayment
(This hotel requires you prepay the full room charge to Travel China Guide Hotel Center.)

Profile

The centrally-located Sichuan Jinjiang Hotel, with its
reputation as a garden-like hotel, totals an area of over
50,000 square meter and 40 percent of which are covered
with greenery. The 511-room hotel also boasts suites of
distinct styles and the luxurious and elegant Presidential
Suite, upscale restaurants, 20 plus bars, the European
Garden Avenue a large banquet center with panoramic
views, 10 convention rooms of different specs and patterns,
ranging from 38 to 600 square meter, and a full range of
comprehensive service facilities, hence nice venues tastefully
laid out for business and pleasure. After a major renovation
in 2002, the hotel s facilities and amenities are all the more
inclusive of the ingenuity of science and technology of a new
century. As the first ever 5-star business and tourist hotel in
China s southwest, it has on many occasions been honored
as Best Star-rated Hotel of China and one of the 10 Top Hotel
of China. Check-In Time : 1000 Check-Out Time : 1200

Services

Post, Whirlpool, Pool, Barber, Laundry, Medical, Travel
Desk, Boutiques, Concierge Desk, Currency Exchange,
In Room Telephone Service, Express Check'-In, Express
Check'-Out, Front Desk'-24 Hours, Guest Laundromat,
Luggage Storage, Wake up service

Facilities

Front Desk, Business Center, Concierge, Elevator, Free
Parking, Bar, Banquet, Restaurant, Safe Deposit Box,
Lounge, Coffee Shop, Room Service, Room'-Service
24 Hours, Handicap Facilities, Outdoor Parking, Parking,
Jacuzzi, Outdoor Pool, Sauna,Conference Facilities,
Meeting. Room facilities: AC, Cable TV, Direct Phone,
Channel Music, Attbath, Shower, Bath Tub, Shower/Bath
Tub, Minibar, Work Desk, Safe Deposit Box, Double Bed,
King Bed

Features

After the passionate and spicy experience of eating local
food, the Jinjiang Hotel is a good place to refresh your
tastebuds! Japanese gourmet delights, Korean noodles
and Continental specialties are all available in the restaurant
here.