Legole.Com Discover china. Explore the beauty and wonder of the land, people, and culture of

China

.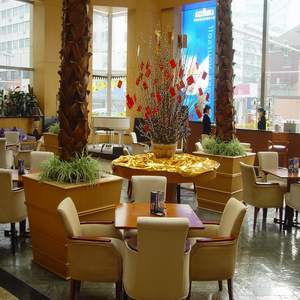 No. 2 Taisheng Bei Road, Chengdu, China, 610017

Location: in the bustling city center and only 20 minutes drive from the airport; distance from the airport 22 Km, from the railway station 4.5 Km
Surrounding: City Center
Accepted credit cards: Master, Visa, AMEX, Diners Club, JCB

Room Type Period Average(CNY/ USD)
Amara Deluxe Room Apr 1, 2005 - Aug 31, 2005 518/ 64
Sep 1, 2005 - Oct 31, 2005 628/ 78
Nov 1, 2005 - Dec 31, 2005 528/ 65
Business Suite Apr 1, 2005 - Aug 31, 2005 618/ 76
Sep 1, 2005 - Oct 31, 2005 888/ 110
Nov 1, 2005 - Dec 31, 2005 788/ 97
Deluxe Room Apr 1, 2005 - Aug 31, 2005 468/ 58
Sep 1, 2005 - Oct 31, 2005 588/ 73
Nov 1, 2005 - Dec 31, 2005 468/ 58
Standard Suite Apr 1, 2005 - Aug 31, 2005 918/ 113
Sep 1,2005 - Oct 31, 2005 988/ 122
Nov 1, 2005 - Dec 31, 2005 1000/ 123
Superior Room Apr 1, 2005 - Aug 31, 2005 418/ 52
Sep 1, 2005 - Oct 31, 2005 488/ 60
Nov 1, 2005 - Dec 31, 2005 428/ 53

Payment

Pay at hotel reception
(This hotel requires you pay the full room charge directly at hotel reception by guarantee first.)

Profile

The Amara, Chengdu is managed by Amara International
Hotels & Resorts Pte. Ltd. The interior of the hotel, designed
by internationally renowned design firm Hirsch, provides an
aesthetic appeal of the highest order. The hotel offers 242
luxuriously appointed guestrooms including 10 suites with
panoramic views of the city center. Juxtaposing with the
modern furnishings of the guestroom is the strong element
of Asian details.Check-in time is 1pm, check-out time is 12noon.

Services

24-Hour Room Service
Writing Desk
Chair and Coffee Table
Extension Telephone in the Bathroom
Electronic Door Lock System
Electricity is 240 volts A.C
Swimming Pool
Health Club
Gymnasium
City Shuttle Service
Florist
Baby- sitting Service
Express / Personalised Check-In and Check-out
Postal Services for Letters and Packages
Foreign Currency Exchange
Undercover Parking
Drug Store
Hair & Beauty Salon
Tour Desk
Laundry and Dry-cleaning
Car Rental / Limousine Service
Doctor on Call 24 Hours a day
Business Center
Shoe shinning

Facilities

International Direct Dialing Facilities
Remote Control Color TV with In-house Movies
and Satellite Broadcasts
Piped-in Music and Radio
Central Air-conditioning and Heating System
with Individual Thermostat Control, Mini- Bar and
Fridge, Tea and Coffee Making Facilities.

Features

Each room is spaciously and tastefully designed with a view of
the bustling city center or courtyard.The Chinese restaurant is the
premier dining establishment in Chengdu. It will set the trail ablaze
with its eclectic serving of exquisite Sichuan cuisine. The western
restaurant Cafe Oriental, features international and Oriental cuisine
to cater to the whims of all guests. The Bar's high glass ceiling bathes
the lounge in natural sunlight.

Guest Comments

We are very satisfied with your service. The hotel has no problem with our reservation, which is good. One suggestion is this. We are typically FIT rather than part of a group tour. In fact you will see a growing FIT tourism market within this region.
As such apart from hotels, we would need to arrange on our own transportation,etc. Our hope is that you can include services like that also. In places like Sichuan we travel a lot outside of Chengdu. It would be good also if you can extend your hotel offerings to as many remote places as possible. We really enjoyed our stay.