Legole.Com Discover china. Explore the beauty and wonder of the land, people, and culture of

China

.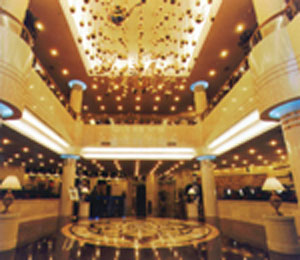 North Avenue Xincheng, Hohhot, China, 010010

Location: It is located in the financial center.Distance from the airport 15km, distance from the railway station 2km
Surrounding: shopping mall
Accepted credit cards: Master, Visa, AMEX, Diners Club, JCB

Price And Booking

Room Type Period Average(CNY/ USD)
Deluxe Room Jul 1, 2005 - Sep 30, 2005 768/ 95
Oct 1, 2005 - Dec 31, 2005 628/ 78
Deluxe Suite Jul 1, 2005 - Sep 30, 2005 1118/ 138
Oct 1, 2005 - Dec 31, 2005 908/ 112
Executive Deluxe Room Jul 1, 2005 - Sep 30, 2005 928/ 115
Oct 1, 2005 - Dec 31, 2005 788/ 97
Executive Single Room Jul 1, 2005 - Sep 30, 2005 718/ 89
Oct 1, 2005 - Dec 31, 2005 618/ 76
Standard Room Jul 1, 2005 - Sep 30, 2005 598/ 74
Oct 1, 2005 - Dec 31, 2005 450/ 56
Superior Suite Jul 1, 2005 - Sep 30, 2005 1316/ 162
Oct 1, 2005 - Dec 31, 2005 1078/133

Payment

Pay at hotel reception
(This hotel requires you pay the full room charge directly at hotel reception by guarantee first.)

The room price is quoted in both CNY and USD. After you submit your booking form, our memo table will show you the total room price in CNY,not USD, and which is the figure you need pay at the hotel reception.
The room price has included 15% service charge, but excludes any sort of tax.
One room price excludes or includes one or two daily breakfasts served in the hotel.
The hotel keeps the reservation till 18:00 if no any advance note.
Hotel's stipulated check-in time at 14:00 and check-out time at 12:00. Early check-in and late check-out are subject to room availability. The hotel might request half day or full day room price for late check out.

Profile

Phoenix Hotel Inner Nongolia is a four star commercial hotel,
invested by Air China, main government departments, insurance
company, banks and stock company extra. It is a hotel beloved
by traveler for purpose of commerce or sightseeing with conveient
trarnsportation.Check out: 12:00 pm

Services

Front Desk
Bar
Restaurant
Safe Deposit Box
Lounge
Coffee Shop
Room Service
Parking
Conference Facilities
Meeting Facilities
Non Smoking
Medical
Currency Exchange
Business center

Facilities

The hotel has elegantly decorated guest room 280 with
sound equipment, including unique executive and non
smoking rooms, It is the first hotel that provide DDN service
in all rooms to meet guests requirement. Sound equipment
of banquet hall and meeting room, Professional services let
your meeting going conveniently.

Features

Fing Xiang Xuan Chinese Restaurant: You be able to
savor the traditional Cantonese cuisine, Realize the China
classics dining culture moreover.

Sunshine Coffee House: you can taste international flavor
buffet, a la carte with romantic environment every day.

Hokkaido: The Japan of tunnel manages to reach the
orthodox service, Be able to allow you savor true Japanese
cuisine.

Xin An Ju Speciality Restaurant: the chef from XiAn will
make you satisfied with his food collection.

Galaxy Bar & Restaurant: Taste sterling weatern cuisine.
Appreciate elegent violin View the beautiful Huhhot night.

Teppanyaki & Sushi Restaurant:The sheet iron is up multiply
fable delicacies moving up and down. sheet iron to bake to see
the chef practiced on the high temperature sheet iron to make
every style seafood, the delicacy food.