Legole.Com Discover china. Explore the beauty and wonder of the land, people, and culture of

China

.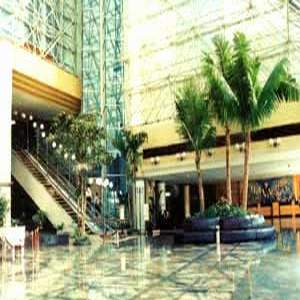 No.18, Peace Ave, Haidian Island, Haikou, China, 570208

Location: The Huandao Tide Hotel is only 40 minutes drive from the Haikou airport.
Surrounding: Seashore
Accepted credit cards: Master, Visa, AMEX, Diners Club, JCB

Price And Booking

Room Type Period Average(CNY/ USD)
Executive Deluxe Room Feb 16, 2005 - Dec 31, 2005 420/ 52
Executive Standard Room Feb 16, 2005 - Dec 31, 2005 390/ 48

Payment

Pay at hotel reception
(This hotel requires you pay the full room charge directly at hotel reception by guarantee first.)

The room price is quoted in both CNY and USD. After you submit your booking form, our memo table will show you the total room price in CNY,not USD, and which is the figure you need pay at the hotel reception.
The room price has included 15% service charge, but excludes any sort of tax.
One room price excludes or includes one or two daily breakfasts served in the hotel.
The hotel keeps the reservation till 18:00 if no any advance note.
Hotel's stipulated check-in time at 14:00 and check-out time at 12:00. Early check-in and late check-out are subject to room availability. The hotel might request half day or full day room price for late check out.

Profile

Located in the city of Haikou neighbouring the beautiful
seaside resort, the Huandao Tide Hotel, which is only 40
Minutes drive from the Haikou Airport. It is the first inter-
national 5 star hotel in Hainan Province. The 23-storey
hotel covers 40-mu of land, 30 percent of which is covered
by trees and flowers, and the total building area adds up
to 46,000 square meter. The hotel architecture combines
beautiful scenery of nature of the coastal and garden
surroundings with modern European building design to
form a resort environment of leisure and comfort.
Check in: 02:00pm. Check out: 02:00pm.

Services

The hotel owns 408 rooms and suites including
presidential Suites, Garden Suites, Deluxe Suites,
Connecting Suites and Standard Rooms. It also
possesses 6 estaurant of different styles. They are
the Chiutai City, specialized for the famours Chaozhou
dishes, which are cooked by famous Hongkong looks
here; the restaurant offering local flavours from Huaiyang
and Grangdong Provincs; the Italian style Rose Garden
Providing Western food; the Xihu Restaurant with their
special dishes the food Garden connecting snacks from
different parts of China; and the Romantic Beer Garden
accommodating 300 people together.

Facilities

Electronic door locks (safe lock system),Central air-conditioning
and heating with individual control,TV with remote control,
Cable/Satellite TV / in-room movies,IDD / DDD telephone,
Fully stocked Mini bar,Personal safe,Hairdryer Electricity.

Features

For meetings of various scales, the hotel provides a
Function Hall. All of the meeting rooms possess
advanced equipments such as the infrared ray
simultaneous interpretation facilities of 6 languages,
liquid crystal projection apparatus connected with
computers etc. Other services such as fax. typing.
copying. Internet and E-mail, etc. are also available
under the meeting's demand.The hotel possesses 16
Bowling Center arena and International Standard sauna
8 Massage Rooms. Barber 8 Beauty Salon. Night Club.
Tennis Court. Health-keeping Room and outdoor Pool.
The Business Street in the Hotel deals with various
high-grade famous brand clothes. silk arts and crafts.
tourism souvenir etc. Therefore, all of them can provide
the guest with the very convenience.