Legole.Com Discover china. Explore the beauty and wonder of the land, people, and culture of

China

.

Crowne Plaza Spa & Beach Resort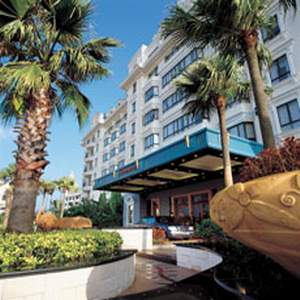 No. 1 Qiongshan Avenue, Qiongshan New City, Haikou, China, 571100

Location: The Crowne Plaza Hainan Spa & Beach Resort is located in the Qiongshan District of the tropical island of Hainan, only 15 minutes drive from the Haikou Meilan International airport.
Surrounding: Holiday Beach, Pearl Square
Accepted credit cards: Master, Visa, AMEX, Diners Club, JCB

Price And Booking

Room Type Period Average(CNY/ USD)
Executive Sea-view Room Mar 1,2005 - Dec 31,2005 1265/ 156
Executive Sea-view Suite Mar 1,2005-Dec 31,2005 1725/ 213
Garden-view Room Mar 1, 2005 - Dec 31, 2005 480/ 59
Sea-view Room Mar 1, 2005 - Dec 31, 2005 550/ 68
Sea-view Suite Mar 1,2005 - Dec 31,2005 1300/ 160

Payment

Pay at hotel reception
(This hotel requires you pay the full room charge directly at hotel reception by guarantee first.)

The room price is quoted in both CNY and USD. After you submit your booking form, our memo table will show you the total room price in CNY,not USD, and which is the figure you need pay at the hotel reception.
The room price has included 15% service charge, but excludes any sort of tax.
One room price excludes or includes one or two daily breakfasts served in the hotel.
The hotel keeps the reservation till 18:00 if no any advance note.
Hotel's stipulated check-in time at 14:00 and check-out time at 12:00. Early check-in and late check-out are subject to room availability. The hotel might request half day or full day room price for late check out.

Profile

Crowne Plaza Hainan Spa & Beach Resort is also
certified by the Guinness World Records as the
Largest Indoor Hot Spring Spa in the World, and the
Largest Resort in China. The resort takes pride in its
exciting list of sports and recreational facilities; a
private beach, access to exclusive golf course,
water sports, and game rooms. Check in/out: 12:00 p

Services

Water sports, jet ski, bar & lounge, business centre,
beauty salon, baby sitting service, billiards room,
currency exchange, conference facilities, clinic,
coffee shop, facilities for disabled, gymnasium,
Internet service, laundry & valet service, night
club,restaurant, sauna, swimming pool, shopping
arcade, shoe-shining facility, tennis court, tour desk.

Facilities

There are 1054 hotels in Crowne Plaza Spa & Beach
Resort. All rooms have private bathroom with shower,
air conditioning, tea/coffee making facilities, hairdryer,
mini-bar and refrigerator, IDD telephone with voicemail
and dataport, satellite/cable remote TV, AM/FM radio
with movie channel, modem socket, alarm clock, full
kitchen and Jacuzzi tubs (in some rooms only), iron/ironing
board, separate hanging closet.

Features

Ten restaurants and lounge/bars, extensive service
facilities and recreational activities, the resort is a
truly unique and a perfect leisure destination for
all. Karaoke, Ping Pong Room,Sauna.