Legole.Com Discover china. Explore the beauty and wonder of the land, people, and culture of

China

.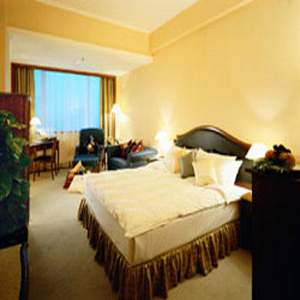 No. 18 Yan'an Dong Road, Guiyang, China, 550001

Location: It is conveniently located in the city business area. The hotel is about 8km from the railway station and 13km from the airport.
Surrounding: Business center
Accepted credit cards: Master, Visa, AMEX, Diners Club, JCB

Price And Booking

Room Type Period Average(CNY/ USD)
Deluxe Room Oct 15, 2004 - Dec 31, 2005 437/ 54

Payment

Pay at hotel reception
(This hotel requires you pay the full room charge directly at hotel reception by guarantee first.)

The room price is quoted in both CNY and USD. After you submit your booking form, our memo table will show you the total room price in CNY,not USD, and which is the figure you need pay at the hotel reception.
The room price has included 15% service charge, but excludes any sort of tax.
One room price excludes or includes one or two daily breakfasts served in the hotel.
The hotel keeps the reservation till 18:00 if no any advance note.
Hotel's stipulated check-in time at 14:00 and check-out time at 12:00. Early check-in and late check-out are subject to room availability. The hotel might request half day or full day room price for late check out.

Profile

Guizhou Trade-Point Hotel Guiyang completed 4-star facilities
in a landmark of hospitality and luxury. It is a deluxe hotel ideally
located in the heart of the business and financial district. It is
situated near the main railway station and the airport. Superior
accommodation, warm personal service and comprehensive
meeting facilities have earned the property a reputation as the
leading four-star hotel in Guiyang. Check in/out: 12:00 pm

Services

Kiosk
In-house medical consultation
Babysitting service
Express laundry & dry cleaning
Ticket booking and flight confirmation services
Sauna Spa
Gymnasium
Internet High Speed Broadband.
Karaoke VIP Room & Lounge
Business center
Conference facilities
Beauty Salon

Facilities

The Trade-Point Hotel residential facilities comprise 254
guestrooms with 29 executive rooms/suites in the building.
All guestrooms and suites are equipped with exquisite and
elegantly design amenities for the comfort and convenience
of both frequent business travelers and tourists.254 guestrooms
are spacious and well appointed. No smoking and disabled
rooms are also available. Each room feature:
Individually controlled air-conditioning
In-room safe
International direct dialing telephone
24 hours room service
Mini Bar and refrigerator
Remote color television with satellite programming such as
Star TV, CNN,BBC,NHK, DW, TV5 and local programming
Internet high speed broadband

Features

The restaurant that features old chinese designs incorporated
in a modern way. Booth seating around the room is comfortable
and makes for great clandestine conversations, offers favorable
Cantonese and Guizhou cuisines. It is the ideal spot for the family
or a business lunch and dinner.