Legole.Com Discover china. Explore the beauty and wonder of the land, people, and culture of

China

.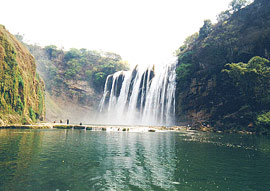 Location: situated at the east of Yungui Plateau (also named Guizhou Plateau) of China; at the middle and west part of Guizhou province

Neighboring Areas: Yunnan, Sichuan, Hunan provinces and Guangxi Zhuang Autonomous Region

Physical Features: located in the dividing line of the Yangtze River, Wujiang River and the Beipang River valley of the Peal River, with the altitude of the highest place of 1850 meters, relative altitude of 1494 meters; mainly occupied by the typical karsts topography; great undulation from south to north

Population: 2.40 million
Area: 9,268 sq km

Nationalities: Han, Miao, Buyi, Dong, Yi, Gelao, Tujia, Hui, Zhuang, and Yao

History: being the throat way between Qian and Dian since ancient times; also the collecting and distributing center for goods to the west Dian; having the fame of that, "the stomach of Qian (namely Guizhou province), the throat of Dian (namely Yun'nan province), the lips and teeth of Shu Yue (namely Sichuan and Guangdong province)"

Climatic Features: in the west section of the subtropical monsoon zone, a plateau monsoon climate with clear humid feature; without cold winter and hot summer; cloudy with less sunshine; with frost free period of 280 days

Average Temperature: 15C annually

Rainfall: plenty of rain, annual average precipitation of 1200 mm; concentrated in summer; average humidity of 86 percent

Mountains: Mt. Miaoling

Rivers: the Sancha River; Beipanjian River; Dabang River; Getu River, the Huanguoshu Waterfall; the Hongfeng Lakes

Local Highlights: the Anshun Dixi Drama - the alive fossil of drama; wax printing - the first dye in Asia; kitchen knife, scissors and leather knife; the Zhengning Bobo Candy from the Qing dynasty.