Legole.Com Discover china. Explore the beauty and wonder of the land, people, and culture of

China

.

One-Hundred-Li Azalea Belt Scenic Spot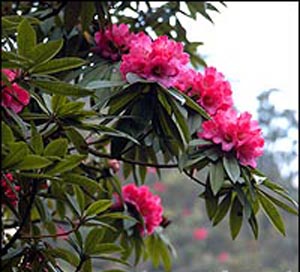 One-Hundred-Li Azalea Belt is situated between Jinpo in Dafang County and Pudi in Qianxi County. With an altitude ranging between 1200 and 2000 meters, this belt is 1 - 4 kilometers in breadth and more than 50 kilometers in length with a total area of 100 square kilometers.

This scenic area consists of 30 attractions, in which Huangping Ten-Li Azalea Belt, Jinpo Azalea Belt, Duizui Cave, Huadi Cave are most famous.

Inside this area, more than 23 kinds of Azalea have been identified. Each year, during the joint period of Spring and Summer, all the Azalea bloom, just like rosy clouds showing off their charms to make tourists intoxicated.

This area is inhabited by Han, Miao, Yi, Bouyei, Gelao and other ethnic groups. Once you enter, you will be attractive by the unique cultures and customs.