Legole.Com Discover china. Explore the beauty and wonder of the land, people, and culture of

China

.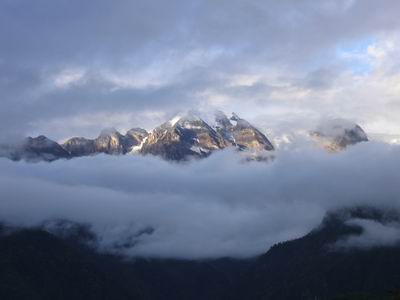 Meili Snow Mountain, also called "Prince Snow Mountain," is located about 10km west of Deqing city in Diqing prefecture, at the confluence of the Jinsha, Lancang and Nu rivers.

In this area, strong updrafts meet with continental cold air masses, forming thick fog and heavy snow. Yet due to vertical climate differences, Meili Mountain also features abundant blooming azaleas and verdant trees, which contrast with the snow-capped peaks, creating a charming scene here.d

Meili Snow Mountain has long been famous for its main peak, Kagebo Peak, which, at an elevation of 6,470 meters (21,221 feet) above sea level, is the tallest in Yunnan. Surrounded by 13 lesser peaks, which are the subject of an enchanting tale, Kagebo Peak is extolled as the "most beautiful mountain in the world." On the southern side of the main peak, a waterfall - known among the local people as "a deluge of rain and God-mandated cascade" - tumbles down from a breathtaking height of 1,000 meters (3,280 feet).

Under Kagebo Peak, low-altitude modern glaciers can be found, which are of particular interest to those engaged in geological research. Mingyongqia Glacier and Siqia Glacier stretch down to the forest at an elevation of 2,700 meters (8856 feet), only 800 meters (2624 feet) from the surface of Lancang River. It is an eternal modern monsoon maritime glacier with low latitude and high altitude.

Towering like a pyramid, Meili Snow Mountain is regarded as a Holy Mountain by local Tibetans. Although there are numerous snow-covered mountains between Yunnan and Tibet, including Mount Everest, the highest mountain in the world, and Qiaogeli Peak, the second highest in the world, Meili Snow Mountain is the highest holy Tibetan mountain -- one shrouded in mist, cloud and mystery. Each autumn, countless Tibetans living near and far make pilgrimages to this legendary peak.

Despite the fact that man has long since conquered Mount Everest, the top of Kagebo Peak, protected by perpendicular cliffs and a treacherous climate, is yet to be visited by a human soul. Since 1902, mountaineers from China, Great Britain, the U.S. and Japan all have failed to conquer the summit. In 1991, 17 mountaineers from China and Japan lost their lives while trying to reach the peak, a tragedy that marked the greatest sacrifice in the history of mountain climbing in China.