Legole.Com Discover china. Explore the beauty and wonder of the land, people, and culture of

China

.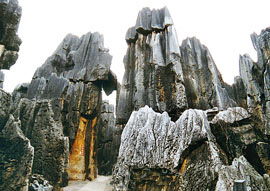 Kunming, capital of Yunnan Province, with a history of more than 2400 years, owes its importance to the fact that it was the gateway to the celebrated Silk Road that facilitated trade with Tibet, Sichuan, Myanmar and India. Today the city is the political, economical and cultural center of Yunnan and the provincial center for transport, science and technology and consequently has become the most popular center for tourism in Southwest China.

Kunming enjoys a pleasant climate and does its best to live up to its title of "the City of Eternal Spring". Whenever you are planning to go, the temperature is always pleasant. With its convenient transport links in and out of the city, Kunming welcomes and sees off tens of thousands of tourists every day.

Kunming is the focal point of Yunnan minority culture. Some 26 ethnic minorities such as Han, Yi, Bai, Miao, Dai, Hani and more inhabit the region. Each group has its own featured festivals such as the Torch festival of Yi people, the Golden Temple Fair and so on. The hugely successful 1999 International Horticultural Exposition enhanced Kunming's influence in the world resulting in a snowball effect upon tourism as more and more foreigners come to discover this enchanting part of China.

Its alluring highland scenery, bewitching karst landform, varied and exotic habitats and customs and places of historical interest can be found at major scenic spots such as Dianchi Lake, Stone Forest, the Village of Ethnic Culture,Grand View Pavilion, etc.

Kunming has more than one hundred star rated hotels and a variety of a thousand or so guest houses. These provide tourists a wide choice of somewhere to relax after whole day's tour.

Kunming is also renowned for many delicious local dishes; the most famous ones are Across Bridge Rice Noodle and Xuanwei Ham. You can enjoy them both at local famous restaurants or the night market. In the night markets you will find many pubs, bars and cafes that serve good quality meals.

Lastly, do not forget to buy some locally produced souvenirs for your friends or family when you have visited Kunming, such as ivory or wood carvings, minority tie dyings. You will find a variety of stores to meet your specified requirements.