Legole.Com Discover china. Explore the beauty and wonder of the land, people, and culture of

China

.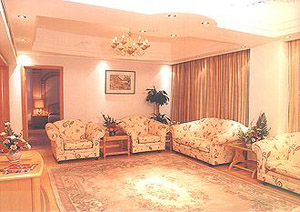 No. 98 Beijing Road, Kunming, Kunming, China, 650011

Location: The hotel is located 5kms from the airport, 1km from the railway station.
Surrounding: The hotel in just in the centre of the Kunming city.
Accepted credit cards: Master, Visa, AMEX, Diners Club, JCB

Price And Booking

Room Type Period Average(CNY/ USD)
Deluxe Single Room(A Building) Apr 15, 2005 - Mar 31, 2006 450/ 56
Standard Room(A Building) Apr 15, 2004 - Mar 31, 2006 380/ 47
Suite Apr 15, 2005 - Mar 31, 2006 750/ 93

Payment

Pay at hotel reception
(This hotel requires you pay the full room charge directly at hotel reception by guarantee first.)

The room price is quoted in both CNY and USD. After you submit your booking form, our memo table will show you the total room price in CNY,not USD, and which is the figure you need pay at the hotel reception.
The room price has included 15% service charge, but excludes any sort of tax.
One room price excludes or includes one or two daily breakfasts served in the hotel.
The hotel keeps the reservation till 18:00 if no any advance note.
Hotel's stipulated check-in time at 14:00 and check-out time at 12:00. Early check-in and late check-out are subject to room availability. The hotel might request half day or full day room price for late check out.

Profile

Kunming JinJiang Hotel is located near the Kunming railway station and is
a quality option in Kunming. The hotel is a member of the "China Famous
Hotel Corporation" and is managed by the Jinjiang International Management Corporation, the biggest hotel chain and management company in China. International standards of service are guaranteed here.
Check in 02:00pm.
Check out 12:00 pm.

Services

The hotel boasts 584 rooms and suites, all bright, spacious and well-
equipped for both tourists and business travelers. The hotel also features
a multi-functional hall that can seat up to 800 people with high quality
A.V. facilities. The hotel also arranges for tours to explore Kunming and
the surrounding areas.

Facilities

Air Conditioning,Bar & Lounge,Business Center,Car park,Conference
Facilities, Direct Dial Telephone, Multi-function meeting room,
Refrigerator,Shopping Arcade, Swimming Pool,Airline Desk,Billiards,
Beauty Salon,Coffee Shop,Gymnasium, Laundry,Internet Access,
Mini-bar,Room Service,Sauna & Massage.

Features

The hotel offers seven restaurants including one of the highest revolving
restaurants in China, all offering authentic Chinese cuisine from Yunnan,
Sichuan, Huaiyang, Canton and traditional Western food as well. The
Top One Disco in the hotel has also won fame among locals and visitors.