Legole.Com Discover china. Explore the beauty and wonder of the land, people, and culture of

China

.

Lijiang Jian Nan Chun Hotel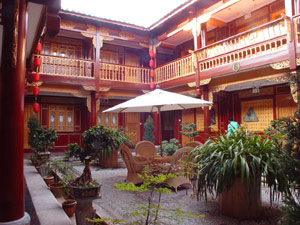 8 Guanyi Street,Dayan Town, Lijiang, Lijiang, China, 674100

Location: located in the center of Lijiang ancient city and adjacent to the historical spots.
Surrounding: Old City
Accepted credit cards: Master, Visa, AMEX, Diners Club, JCB

Price And Booking

Room Type Period Average(CNY/ USD)
Business Suite Apr 26, 2005 - Apr 30, 2006 2600/ 321
Deluxe Suite Apr 26, 2005 - Apr 30, 2006 1400/ 173
Standard Room Apr 26, 2005 - Apr 30, 2006 408/ 50
Standard Suite Apr 26, 2005 - Apr 30, 2006 1200/ 148

Payment Pay at hotel reception
(This hotel requires you pay the full room charge directly at hotel reception by guarantee first.)

The room price is quoted in both CNY and USD. After you submit your booking form, our memo table will show you the total room price in CNY,not USD, and which is the figure you need pay at the hotel reception.
The room price has included 15% service charge, but excludes any sort of tax.
One room price excludes or includes one or two daily breakfasts served in the hotel.
The hotel keeps the reservation till 18:00 if no any advance note.
Hotel's stipulated check-in time at 14:00 and check-out time at 12:00. Early check-in and late check-out are subject to room availability. The hotel might request half day or full day room price for late check out.

Profile

Lijiang prefecture lies in the northwest of Yunnan Province with a total
area of 20,600 square Kilometers. The city of Lijiang, which is the capital
of this prefecture, is 580 kilometers from Kunming. Lijiang prefecture is
made up of four counties: Lijiang Naxi Autonomous county, Yongshen
county, Ninglang Yi minority Autonomous county and Huaping county.
The four counties have elevations that ranges from 1015 meters to 5596
meters (which is the summit of Jade Dragon Snow Mountain).
The temperature of the various counties will differ according to their
elevations.
There are 56 well equipped guest rooms including luxury suites, suites
and standard rooms, each containing a full bathroom. The multi functional
dining-hall that seats up to 200 guests provides western and Chinese food.
The hotel also provides meeting rooms and a business center with state of
the art communication and information services.

Services

Chinese Cuisine
Western Cuisine
Business center
Car rental
Ticketing
Laundry

Facilities

Private bathroom
Bar & Lounge
Business Center
Chess room
Conference Facilities
Direct Dial Telephone
Beauty Salon
In-room Safe
Shopping Arcade
Swimming Pool
Refrigerator
Airline Desk
Beauty Salon
Coffee Shop
Laundry
Laptop Plug
Night Club
Mini-bar

Features

With a restaurant, a tea house and three builclings with accomodations,
the hotel covers a total of 3,360 sqm.