Legole.Com Discover china. Explore the beauty and wonder of the land, people, and culture of

China

.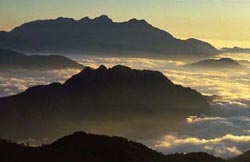 Mt. Ali is not a singe mountain, but a cluster consisting of 18 great mountains. Mt. Ali is located 72 kilometers east of the city of Chiayi. This area is called Mt. Ali Scenic Area. This whole area is densely forested with a total forest area of 30,000 hectares. The highest peak in this mountain range is Mt. Tower which is more than 2600 meters high.
Mt.Ali has three wonders which are its forests, legend of clouds and the sunrise view. Some world-wide peculiar timbers are produced in this area. When spring arrives, the cherry trees blossom everywhere of the mountains and plains. This beautiful scenery attracts a great many tourists every year. On the mountain there is an alpine plant park. In this park, a lot of fantastic and strange trees are on display.

In the summer, the temperature of the Mt.Ali area is very comfortable. So it is the most wonderful place to avoid sunstroke in Taiwan.