Legole.Com Discover china. Explore the beauty and wonder of the land, people, and culture of

China

.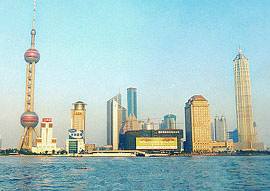 Shanghai, called "Hu" for short, is a bustling metropolis located at the mouth of the Yangtze River. Connected with Jiangsu and Zhejiang provinces in the west, the city is exposed to the East China Sea in the east. With a total area of 6,341 square kilometers (about 2,448 square miles) and a population of more than 13 million, Shanghai takes its place among the world's biggest, most booming urban areas.

When to go

Shanghai also enjoys a delightful climate with four distinct seasons. Annual temperatures average 16C and annual rainfall averages 1200 millimeters. However, spring and autumn, with their moderate temperate, are the best times to visit Shanghai.

History

While the city epitomizes modern, urban China, its history is one of its most intriguing features. In particular, in the 1930s and 40s, Shanghai was a paradise for adventurers. Tycoons, millionaires, knights-errant and great beauties came to this attractive city to realize their dreams, and countless moving stories, both sad and joyful, were played out here.

What to see

Because of its open to foreigners and its coastal location, Shanghai is endowed with rich tourist attractions related to its long and complicated history. Many buildings, constructed in various foreign styles, are well preserved in the Bund area, and western tourists will feel a sense of familiarity when strolling around the long street, which resembles those in European cities. This blending of eastern and western styles has given the Bund a reputation as a "World's Fair of Architecture." Many buildings from the 1920s and 1930s have also survived in the Old City section of Shanghai. A visit to the Old City is easily combined with a stop at Yuyuan Garden, a well-restored Suzhou-style garden created during the Ming Dynasty. The garden is immensely popular with local residents and visiting Chinese. In addition, Jade Buddha Temple, located in northwest Shanghai, is the most popular Buddhist temple in this city, drawing both worshippers and tourists. It is famous for two jade Buddha statues, one of which is reclining and the other seated.

Shanghai is well known both at home and from abroad not only as prosperous metropolis with rich cultural resources, but also for a number of new tourist attractions that have been developed in recent years. Standing on a boat on the Huangpu River, one can enjoy a panoramic view of the river and city skyline. The river sparkles with giant ships sailing busily by; the banks are filled with skyscrapers of different styles. On the modern Pudong side of the river, the futuristic Oriental Pearl TV Tower, with a giddy height of 468 meters, stands as the world's third tallest TV tower, after the 553-meter CN Tower in Toronto and the 535-meter Moscow TV Tower. It has already come to symbolize Shanghai and is honored as one of the ten best views in the city. The Jin Mao Mansion is another famous building in the Pudong New Area. Because of its brightly illuminated skyscrapers, Shanghai enjoys international fame as the "Pearl of the Orient".

Shanghai is also a great destination for shoppers, and the best-known shopping street in China - Nanjing Road - is located here. This exciting avenue is lined with well-known shops and department stores selling clothing, food and specialty goods. Shanghai is a paradise for gourmets, too. Here, visitors can enjoy a taste of all the different kinds of food in the world. Shanghainese cuisine, however, is a special hybrid. There are several famous old restaurants in Shanghai that are not to be missed.