Legole.Com Discover china. Explore the beauty and wonder of the land, people, and culture of

China

.

Oriental Riverside Hotel Shanghai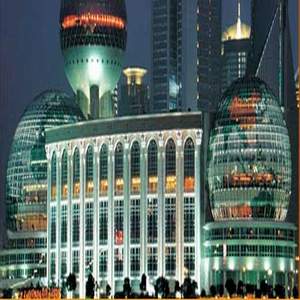 No. 2727 Riverside Avenue Pudong, Shanghai, China, 200120

Location: To Pudong Airport 40 minutes ;To Hongqiao Airport 25minutes
Surrounding: Oriental Pearl TV Tower,Jinmao Tower and the Bund
Accepted credit cards: Master, Visa, AMEX, Diners Club, JCB

Price and Booking

Room Type Period Average(CNY/ USD)
Deluxe River-view Room Aug 5, 2005 - Aug 29, 2005 1688/ 208
Aug 30, 2005 - Sep 30, 2005 1988/ 245
Superior Garden-view Room Aug 5, 2005 - Aug 29, 2005 998/ 123
Aug 30, 2005 - Sep 3, 2005 1458/ 180
Sep 4, 2005 - Sep 6, 2005 1288/ 159
Sep 7, 2005 - Sep 14, 2005 1618/ 200
Sep 15, 2005 - Sep 19, 2005 1288/ 159
Sep 20, 2005 - Sep 24, 2005 1528/ 189
Sep 25, 2005 - Sep 30, 2005 1208/ 149
Superior River-view Room Aug 5, 2005 - Aug 29, 2005 1228/ 152
Aug 30, 2005 - Sep 3, 2005 1628/ 201
Sep 4, 2005 - Sep 6, 2005 1458/ 180
Sep 7, 2005 - Sep 14, 2005 1788/ 221
Sep 15, 2005 - Sep 19, 2005 1458/ 180
Sep 20, 2005 - Sep 24, 2005 1698/ 210
Sep 25, 2005 - Sep 30, 2005 1378/ 170

Payment

Pay at hotel reception
(This hotel requires you pay the full room charge directly at hotel reception by guarantee first.)

The room price is quoted in both CNY and USD. After you submit your booking form, our memo table will show you the total room price in CNY,not USD, and which is the figure you need pay at the hotel reception.
The room price has included 15% service charge, but excludes any sort of tax.
One room price excludes or includes one or two daily breakfasts served in the hotel.
The hotel keeps the reservation till 18:00 if no any advance note.
Hotel's stipulated check-in time at 14:00 and check-out time at 12:00. Early check-in and late check-out are subject to room availability. The hotel might request half day or full day room price for late check out.


Profile

It is the first and the only hotel categorized as 5-star Convention Hotel
in Pudong.Located in the heart of Lujia zui-Shanghai's Financial &
Trade Zone and southwest to the Oriental Pearl TV Tower, it is
accessible from all parts of the city with various modern transportations.
The hotel has 260 well-appointed guestrooms, a wide range of F&B
outlet, comprehensive recreational facilities and meeting venues.99
Fortune Global Forum, 2001 APEC Economic Leader's Meeting,
North Korea Delegation,35th Asian Development Bank Board
Meeting and the seventh regular meeting between Chinese premier
and his Russian counterpart were held in hotel with great success.
Check-out time is 12:00 Check-in time is 14:00


Services

Fitness Center equipped with running machines, recumbent
bikes, stepper, rowing machines and many more.Sauna (Wet & Dry)
and Jacuzzi of different temperatures.
In-door heated swimming pool overlooking the legendary Bund.
Aromatherapy massage, whether in the privacy of your room or
in the Health Club.
Outdoor jogging track in the hotel park along the Huangpu River.
Two outdoors tennis courts situated at the riverside avenue
provide a good place to enjoy the sunshine, the fresh air and the
pleasure of physical exercise.
The Beauty Salon offers a wide range of beauty products and
professional hairdresser to make that day of your special.


Facilities

Oriental Riverside Hotel Shanghai has the city's most comfortable
guest rooms.average size ranging from 36 square meters to 440
squaremeters. All 260 rooms and suites are equipped with the most
modernamenities. Executive Floors with exclusive lounge is available
for the discerning business aveler.
Electronic key and system
Satellite Channel and local cable channels
IDD/DDD telephone
Two telephone extension units for Executive Floor
Mini Bar/Refrigerator
Individually controlled air-conditioning/Heating
Coffee and tea-making facilities
In-room safe deposit box
Voice Mail
Non-smoking rooms
Razor socket 110V/220V
Dry cleaning and Laundry service
Hairdryer Bathrobes/Slippers


Features

Facing the Huangpu River, the restaurant has a beautiful view
of the Bund and serves international buffets for breakfast and lunch.
Shanghai Tan Restaurant mainly serves Shanghaiese cuisine and
dim sum.
Europe Restaurant: Features great Franch cuisine including
Goose Foie Gras Salad,French Onion Soup and steak, accompanied
by a superb wine list.The design is smart,casual and comfortable.
Asia Restaurant it mainly serves Cantonese delicacies,including
shark's Fin,Abalone,Bird's Nest and other delicacies.
Moon River Bar located on the top floor in one of the glass globe,
the bar overlooks the spectacular Bund and is the bestspot for relax.