Legole.Com Discover china. Explore the beauty and wonder of the land, people, and culture of

China

.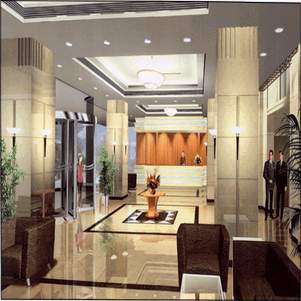 No.1226, Huashan Road, Shanghai, China, 200052

Location: It close to the traffic main thoroughfare--YanAn road&city highway ,only 5KM away from Hongqiao International airport &Shanghai railway station.
Surrounding: Xuhui business district
Accepted credit cards: Master, Visa, AMEX, Diners Club, JCB

Price and Booking
Room Type Period Average(CNY/ USD)
Deluxe Suite Mar 20, 2005 - Dec 31, 2005 2638/ 326
Executive Suite Mar 20, 2005 - Dec 31, 2005 1138/ 140 Standard Room Jun 11, 2005 - Aug 31, 2005 418/ 52
Sep 1, 2005 - Dec 31, 2005 418/ 52
View Room Jun 11, 2005 - Aug 31, 2005 438/ 54
Sep 1, 2005 - Dec 31, 2005 438/ 54
View Suite Jun 11, 2005 - Aug 31, 2005 738/ 91
Sep 1, 2005 - Dec 31, 2005 738/ 91

Payment

Pay at hotel reception
(This hotel requires you pay the full room charge directly at hotel reception by guarantee first.)

The room price is quoted in both CNY and USD. After you submit your booking form, our memo table will show you the total room price in CNY,not USD, and which is the figure you need pay at the hotel reception.
The room price has included 15% service charge, but excludes any sort of tax.
One room price excludes or includes one or two daily breakfasts served in the hotel.
The hotel keeps the reservation till 18:00 if no any advance note.
Hotel's stipulated check-in time at 14:00 and check-out time at 12:00. Early check-in and late check-out are subject to room availability. The hotel might request half day or full day room price for late check out.


Profile

Located at 1226 Huashan Road downtown Shanghai,
the Xinghua Hotel is traffic convenient due to its proximity
to traffic main thoroughfares, Yanan Road and the city
highway. Only 5kms away from Hongqiao International
Airport & Shanghai railway station. It is near the bustling
Xuhui business district. The hotel is committed to its value:
To put every guests' interest in first place and offer a
home away from home.Check out: 12:00 pm


Services

Air-conditioning
IDD & DDD
Gymnasium
Sauna
Massage
Business Center
Laundry
Room Service


Facilities

The Xinghua "multi-function" Hotel has 109 standard
rooms, 9 suites, 8 meeting rooms,All rooms are equipped
with air-conditioning, IDD, DDD, and color TV.


Features

Chinese & Western restaurants, a multi-function
room & hall, Business Center, health club, rooms,
bar, cinema, KTV, shuffleboard and a beauty salon.