Legole.Com Discover china. Explore the beauty and wonder of the land, people, and culture of

China

.

Xian Diamond International Hotel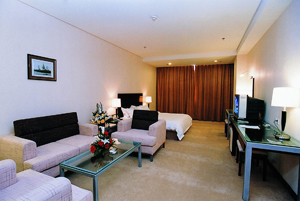 No.177 Jiefang Road, Xian, China, 710004

Location: Situated in the heart of commercial and shopping center of the Xi'an city, and close to the Xi'an Railway Station.
Surrounding: City Center
Accepted credit cards: Master, Visa, AMEX, Diners Club, JCB

Profile

Room Type Period Average(CNY/ USD)
Deluxe Room Apr 1, 2005 - Oct 31, 2005 398/ 49
Nov 1, 2005 - Mar 31, 2006 338/ 42
Deluxe Suite Apr 1, 2005 - Oct 31, 2005 780/ 96
Nov 1, 2005 - Mar 31, 2006 680/ 84
Standard Room Apr 1, 2005 - Oct 31, 2005 368/ 45
Nov 1, 2005 - Mar 31, 2006 308/ 38
Standard Suite Apr 1, 2005 - Oct 31, 2005 680/ 84
Nov 1, 2005 - Mar 31, 2006 480/ 59

Payment

Pay at hotel reception
(This hotel requires you pay the full room charge directly at hotel reception by guarantee first.)

The room price is quoted in both CNY and USD. After you submit your booking form, our memo table will show you the total room price in CNY,not USD, and which is the figure you need pay at the hotel reception.
The room price has included 15% service charge, but excludes any sort of tax.
One room price excludes or includes one or two daily breakfasts served in the hotel.
The hotel keeps the reservation till 18:00 if no any advance note.
Hotel's stipulated check-in time at 14:00 and check-out time at 12:00. Early check-in and late check-out are subject to room availability. The hotel might request half day or full day room price for late check out.

Profile

339 well-equipped rooms include Diamond Suite, Deluxe Suites, Deluxe
Rooms, Standard Rooms and Economic Rooms. All rooms are equipped
with Broad Band network connections, air conditioner control system ,
satellite TV, background music, DDD & IDD call, mini-safety box and mini
bar.

Services

The hotel provide well-equipped business center, laundry service, room
service, baby-sitting, foreign currency exchange, mail service, airline
information and tickets booking service, flowers, tour information, book
store and car rental service.

Facilities

The Boston Cafe can offer you a chance to enjoy every kind of delicious
local foods of different flavors. All types of the foods are all prepared by
the well-known cooks. It is the ideal place for your spare time.
The Diamond Ball Room, which size is 400 square meters, is famous for
its well-equipped facilities and highly appraised service becomes the
preferred choice for wedding feasts, ceremonies, exhibitions and business
banquets.
Conference Facilities:
The elegant desired meeting rooms are prepared for holding all kinds of
meeting events.
Health Center:
You may enjoy a spa, sauna, massage, hair dressing, facial or play card
during your leisure time.

Features

The Golden Bowl Chinese Restaurant has 34 VIP rooms especially for
meeting different guests' needs. The rooms' capacities are 8 persons,
10 persons, 12 persons, 16 persons and 20 persons and etc. Also, the
highly recommended 80-person-accomodated connecting room will surely
attract your eyeballs. The Dinning Hall of the Chinese Restaurant can hold
260 guests to dine at the same time, which accepts various banquets,
parties, groups and conferences. Its foods are mainly Cantonese Cuisine,
including the various sea foods for the guests to choose.