Legole.Com Discover china. Explore the beauty and wonder of the land, people, and culture of

China

.

Jinshi International Hotel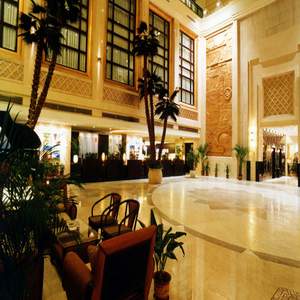 398 East Section of 2nd Ring Road, Xian, China, 710061

Location: located in the 2nd Ring Road, Xi'an city. It is 50kms to the airport and 10kms to the railway station and and 3kms to city center.
Surrounding: the Big Goose Pagoda,the Museum of History, Industry exhibition center
Accepted credit cards: Master, Visa, AMEX, Diners Club, JCB

Price And Booking

Room Type Period Average(CNY/ USD)
Business Suite(A Type) May 11, 2005 - Mar 31, 2006 930/ 115
Business Suite(B Type) May 11, 2005 - Mar 31, 2006 820/ 101
Deluxe Room May 11, 2005 - Mar 31, 2006 598/ 74
Standard Room May 11, 2005 - Mar 31, 2006 498/ 61

Payment

Pay at hotel reception
(This hotel requires you pay the full room charge directly at hotel reception by guarantee first.)

The room price is quoted in both CNY and USD. After you submit your booking form, our memo table will show you the total room price in CNY,not USD, and which is the figure you need pay at the hotel reception.
The room price has included 15% service charge, but excludes any sort of tax.
One room price excludes or includes one or two daily breakfasts served in the hotel.
The hotel keeps the reservation till 18:00 if no any advance note.
Hotel's stipulated check-in time at 14:00 and check-out time at 12:00. Early check-in and late check-out are subject to room availability. The hotel might request half day or full day room price for late check out.

Profile

Jinshi International Hotel is a newly opened five star hotel in
Sep, 2004, located in the 2nd Ring Road.The hotel has more
than 327 guestrooms in the hotel including deluxe rooms,
suites and offices. The restaurant in the hotel serves authentic
Cantonese cuisine. The hotspring on B1 floor has 28 independent
massage rooms and complete sauna facilities.

Services

Satellite TV
IDD/DDD telephone
Voice mail system
Broadband Internet surfing
safe
Coffee/tea maker
Mini-bar
Air conditioning

Facilities

Chinese restaurant
Weatern restaurant
Hotspring
Nightclub
Garage
Suana room
Massage room
KTV room
Conference room
Parking lot
Beauty salon

Features

Besides the elegantly decorated Chinese Restaurant, the
Western Food Restaurant in the hotel serves good western
cuisine.