Legole.Com Discover china. Explore the beauty and wonder of the land, people, and culture of

China

.

Mt. Fanjingshan National Nature Reserve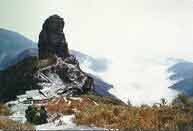 Mt. Fanjingshan, the forever Pure Land, is located in an area comprising parts of the three counties of Jiangkou, Yinjiang and Songtao in the northeast section of Guizhou Province. With its highest peak with an altitude of 2572 meters, Mt. Fanjingshan is not only the highest mountain in Guizhou but also is the highest peak in all of the Wuling Mountain Range.

Established in 1978, the reserve covers a total area of 567 square kilometers. In 1986, it was classified as a national reserve and in the same year, joined the "Man and Biosphere" nature reserve network of UNESCO.

Mt. Fanjingshan is believed to include the best preserved virgin forest of any area at this latitude on earth.

The reserve contains many floral elements and is rich in plant resources, of which many are unique and grow only in this area of the world. With diversified vegetation and clearly distinguished vertical zones, the reserve is a special conservation spot for typical primitive vegetation within the mid sub-tropic alpine region of western China. There are more than 2000 species of plants in the region, of which more than 1000 are high altitude plants. Twenty one kinds of high altitude plants, including the dove tree, are listed as national protected plants.

Favorable nature conditions also provide an ideal habitation area for wild animals. Over 382 species of vertebrae animals were identified here of which 14 including the Guizhou golden monkeys and South China Tiger are national protected animals.

Fanjingshan is not only abundant in rare bio-resources, but also is one of the most famous mountains for worshippers of Buddhism. Its status of being a sacred Buddhist mountain was established in the 16th century. In the Qing Dynasty (1644-1911), there were 48 Buddhist temples here. From the many remains of temples and precious stone tablets left, one can imagine the celestial atmosphere of that time.

The tops of most Buddhist mountains are called "golden summits." Different from other Buddhist mountains, Mt. Fanjingshan has three "gold summits." The first is on Mt. Fenghuang, the main peak of Mt. Fanjingshan, 2,572 meters above sea level, which once had temples where pilgrims would pray. The second is on Mt. Laoshan, 2,493 meters above sea level, which also had temples for Buddhist followers. The third, called Fanjing Golden Summit, a 94-meter-high huge rock, is 2,336 meters above sea level between Fenghuang Golden Summit and Laoshan Gold Summit. Its top is often shrouded in colorful clouds, hence its name Hongyun (Red Cloud) Summit.

Also interesting is that a rainbow "Buddhist Halo" often appears near the Hongyun Summit. In it, people can find enlarged shadows of people and objects. People regard it as an auspicious sign.

In recent years Mt. Fanjingshan has become a scenic spot famous at home and abroad.