Legole.Com Discover china. Explore the beauty and wonder of the land, people, and culture of

China

.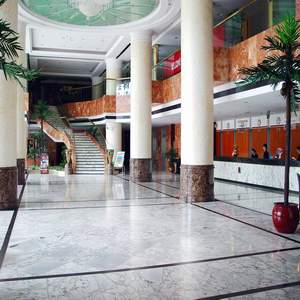 No. 20 Lijiang Road, Guilin, China, 541004

Location: The hotel is 40km from the airport and 1km from the railway station
Surrounding: Located in the South East of Guilin, on the west bank of the Lijiang river with the Through Hill scenic spot in front and Seven Star Park behind
Accepted credit cards: Master, Visa, AMEX, Diners Club, JCB

Price And Booking

Room Type Period Average(CNY/ USD)
Executive Room Jun 1, 2005 - Aug 31, 2005 465/ 57
Sep 1, 2005 - Oct 31, 2005 507/ 63
Nov 1, 2005 - Nov 30, 2005 465/ 57
Dec 1, 2005 - Mar 31, 2006 424/ 52
Standard Room Jun 1, 2005 - Aug 31, 2005 382/ 47
Sep 1, 2005 - Oct 31, 2005 424/ 52
Nov 1, 2005 - Nov 30, 2005 382/ 47
Dec 1, 2005 - Mar 31, 2006 341/ 42
Standard Suite Jun 1, 2005 - Aug 31, 2005 976/ 120
Sep 1, 2005 - Oct 31, 2005 1275/ 157
Nov 1, 2005 - Mar 31, 2006 976/ 120

Payment

Pay at hotel reception
(This hotel requires you pay the full room charge directly at hotel reception by guarantee first.)

The room price is quoted in both CNY and USD. After you submit your booking form, our memo table will show you the total room price in CNY,not USD, and which is the figure you need pay at the hotel reception.
The room price has included 15% service charge, but excludes any sort of tax.
One room price excludes or includes one or two daily breakfasts served in the hotel.
The hotel keeps the reservation till 18:00 if no any advance note.
Hotel's stipulated check-in time at 14:00 and check-out time at 12:00. Early check-in and late check-out are subject to room availability. The hotel might request half day or full day room price for late check out.

Profile

Guilin Plaza, a modern first class hotel owned by China
Investment Holdings (HK). Well appointed rooms and
complete facilities, the hotel is ideal for both the tourist
and the businessman.
Check in: 02:00 pm Check out: 12:00 pm

Services

288 contemporary spacious and comfortable rooms and
suites all equipped with air-conditioning, IDD, mini bar,
stereo and colour TV with satellite TV and in-house
movies available.For conferences or large gatherings,
the hotel ball room is equipped with a high-tech audio-
visual system, ideal for conferences or banquets with the
capacity to hold up to 380 people. In addition, there are
a function rooms, several meeting rooms and a business
center with Internet access.

Facilities

Air conditioning
Baby sitting
Banquet facilities
Bar & lounge
Barber & beauty salon
Business centre
Coffee shop
Conference facilities
Disco / Nightclub
Doctor on call
Fitness centre
Foreign exchange
IDD
In-house movies
Laundry
Limousine
Mini bar
Non-smoking rooms
Parking
Restaurants
Room service
Rooms for disabled
Satellite / Cable TVm
Sauna / Spa
Shopping arcade
Swimming Pool.

Features

The hotel has the usual karaoke bar and a range of
recreation facilities including a health club, sauna,
massage, snooker room, outdoor swimming pool, pool-
side barbecue, lobby lounge, shopping arcade, disco,
gym and beauty salon. For dining, the Chinese specialty
restaurant serves morning tea, lunch and dinner and the
menu features a range of famous Cantonese and Sichuan
cuisine, including many delicate seafood flavors and local
cuisine. There is also a Western Restaurant/ Coffee Shop
here serving breakfast, lunch, dinner, buffets and night snacks.