Legole.Com Discover china. Explore the beauty and wonder of the land, people, and culture of

China

.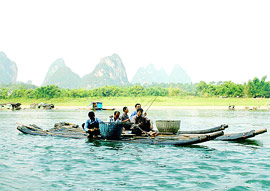 Location: situated in the heart of the Li River Valley with Guilin to the south

Neighboring Areas: Yunnan, Guizhou, Hunan and Guangdong provinces

Physical Features: the most typical karst topography

Population: 298,000
Area: 1428.38 sq km

Nationalities: Han, Zhuang, Yao and Miao

History: established as a county in the Sui dynasty (A. D. 590)

Climatic Features: the sub-tropical monsoon climate with temperate weather all the year round; with the sunlight of 1,465 hours and 300 days frost-free period annaully; neither too hot in summer nor too cold in winter

Average Temperature: 19C annually
Rainfall: 1,640mm annually

Mountains: Moon Hill, Xiu Hill, Mural Hill, Snail Hill (Luoshi Hill), Xilang Hill, Schoolboy Hill, Chaoban Hill

Rivers: Yulong River, Li River

Products: Shatian Shaddock, kumquat, dried persimmon, Chinese Chestnut

Local Highlights: Xijie (the street of western style - the ideal place to enjoy western food and purchase souvenir), talcum, silk, wax printing, drawing fan, Xiuqiu (a small ball of love popular in Zhuang ethnic group), paintings and calligraphy, pottery with antique flavors.