Legole.Com Discover china. Explore the beauty and wonder of the land, people, and culture of

China

.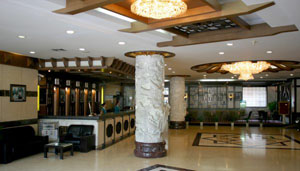 No 68 Pantao Road, Xinxi Street, Yangshuo, China, 541900

Location: It is located on center square of Yangshuo. It takes only three minutes away from the world famous foreign Street,the West Street.
Surrounding: West Street
Accepted credit cards: -

Price and Booking

Room Type Period Average(CNY/ USD)
Deluxe Business Room Jun 10, 2005 - Sep 30, 2005 440/ 54
Oct 1, 2005 - Oct 7, 2005 666/ 82
Oct 8, 2005 - Dec 22, 2005 440/ 54
Deluxe Standard Room Jun 10, 2005 - Sep 30, 2005 380/ 47
Oct 1, 2005 - Oct 7, 2005 603/ 74
Oct 8, 2005 - Dec 22, 2005 380/ 47

Payment


Pay at hotel reception
(This hotel requires you pay the full room charge directly at hotel reception by guarantee first.)

The room price is quoted in both CNY and USD. After you submit your booking form, our memo table will show you the total room price in CNY,not USD, and which is the figure you need pay at the hotel reception.
The room price has included 15% service charge, but excludes any sort of tax.
One room price excludes or includes one or two daily breakfasts served in the hotel.
The hotel keeps the reservation till 18:00 if no any advance note.
Hotel's stipulated check-in time at 14:00 and check-out time at 12:00. Early check-in and late check-out are subject to room availability. The hotel might request half day or full day room price for late check out.

Profile

Yangshuo New West Street Hotel located on center square
of Yangshuo. The hotel has elegant environment, convenient
traffic and faces Yangshuo park with a beautiful scenery.To
satisfy Chinese and Foreign guests well, they supply thorough
star-level services. Stay in their hotel is your best choice for
travel, business and spend holiday in Yangshuo, Guilin. Come
as a guest. Leave as a friend. Check in: 12:00 pm Check out: 12:00 pm

Services

The New West Street Hotel is one international standard
four star hotel. Fully equipped facilities and service
are will be satisified for all businessman and travellers.
air condition
business center
conference facilities
restaurant
parking
beauty salon
sanna
internet access

Facilities

The hotel offer many style guestrooms to travllers,such as
Deluxe Standard Room, Deluxe Business Room and Superior
Business Suite.
air condition
IDD telephone
internet access
mini-bar
bathroom
satellite TV

Features

All delicious food are offered in the hotel. Western food
and Chinese cuisine, coffee bar are all ideal choice for
travellers.Other recreation includ swimming pool,kala etc.