Legole.Com Discover china. Explore the beauty and wonder of the land, people, and culture of

China

.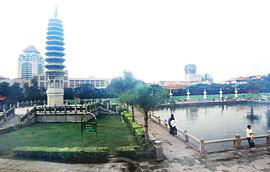 Location: located in the southern part of Fujian province; between 11804´ east longitude and 2426´ north latitude

Neighboring Areas: Zhejiang, Jiangxi, Guangdong and Taiwan provinces

Physical Features: mainly downland, small plain near the sea; Xiamen island and continent is connected by the sea bank; wide gulf with deep water, without freezing and silting

Population: 1.24 million
Urban Population: 1.24 million
Area: 1,565 sq km

Nationalities: Han, She, Hui, Miao, Manchu, and Gaoshan

History: the administration organizational system of Xiamen has begun since Song dynasty, Ming built the city walls and established Xiamen as a major seaport and commercial centre; the city has significantly benefited from Taiwanese, overseas Chinese and foreign investment and its designation as a Special Economic Zone in 1980

Climatic Features: subtropical monsoon climate; the black frost period last 364 days; the average wind power is 3 to 5 level, mainly the northeast wind

Average Temperature: annual average 20.8C, with the absolute highest temperature of 38.4C, lowest of 2C
Rainfall: the annual precipitation is 1100mm; concentrated on May, June and July

Mountains: Gulangyu Island- Wanshi Mountain

Rivers: Yongding River, a branch of the Haihe River

Local Highlights: Peanut Crisp, Spice Grapes, tea, seafood.