Legole.Com Discover china. Explore the beauty and wonder of the land, people, and culture of

China

.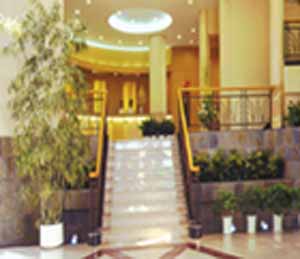 No.14 Gusheng Road, Gulangyu, Xiamen, China, 361002

Location: located on Gulangyu island, about 15 kilometers from the airport and six km from the railway station.
Surrounding: Gulangyu island
Accepted credit cards: Master, Visa, Diners Club, JCB
Price and Booking

Room Type Period Average(CNY/ USD)
Deluxe Room May 8, 2005 - Sep 30, 2005 298/ 37
Oct 1, 2005 - Oct 7, 2005 460/ 57
Oct 8, 2005 - Apr 24, 2006 298/ 37
Sea-view Room May 8, 2005 - Sep 30, 2005 298/ 37
Oct 1, 2005 - Oct 7, 2005 460/ 57
Oct 8, 2005 - Apr 24, 2006 298/ 37

Payment

Pay at hotel reception
(This hotel requires you pay the full room charge directly at hotel reception by guarantee first.)

The room price is quoted in both CNY and USD. After you submit your booking form, our memo table will show you the total room price in CNY,not USD, and which is the figure you need pay at the hotel reception.
The room price has included 15% service charge, but excludes any sort of tax.
One room price excludes or includes one or two daily breakfasts served in the hotel.
The hotel keeps the reservation till 18:00 if no any advance note.
Hotel's stipulated check-in time at 14:00 and check-out time at 12:00. Early check-in and late check-out are subject to room availability. The hotel might request half day or full day room price for late check out.

Profile

In the Late Song Dynasty (960-1279) and early Yuan Dynasty (1271-1368),
there was then a huge rock with a natural cavern on the beach, which
sounded like drums thundering when sea waves lashed against it. The
rock was therefore named "Gulang Shi", meaning the rock of thundering
drums, so is the name of the Gulang islet.
Gulang Shi, the symbol of Gulang, stands in front of the hotel.
The Gulang Villa Hotel is situated on the picturesque Gulang islet, designed
in the run of the hill. Seen from the hotel, colorful flowers, green trees, blue
sky, the broad sea and the wide sands are naturally unified in perfect
harmony.
There are 66 guestroom within the hotel, including single rooms, double
rooms and suites. All are equiped with IDD/DDD, mini-bar, air-conditioning,
TV, etc. Also, 24-hour room service is also available.

Services

Chinese Cuisine
Western Cuisine
Coffee Shop
Bar / Lounge
Karaoke
Chess / Poker Room
Pool Room
Ping Pong Room
Tennis
Fitness Facility
Sauna

Facilities

Meeting Facilities
Business Center
Parking
Ticketing Office
Domestic Long-distance Access
International Long-distance Access
Laundry Service
Gift Shop
Beauty Salon
Taxi

Features

The hotel's restaurants serve delicious Cantonese and Fujian cuisine,
Western food and local specialties. A coffee shop, bar and outdoor
barbecue are also available. The hotel also has a business center
and four meeting rooms, with the largest room having a seating capacity
of 150 people.